Jaden Smith Says Al Gore Is His "Mentor" When It Comes to Environmentalism
The duo are saving the planet together, one generation at a time.
---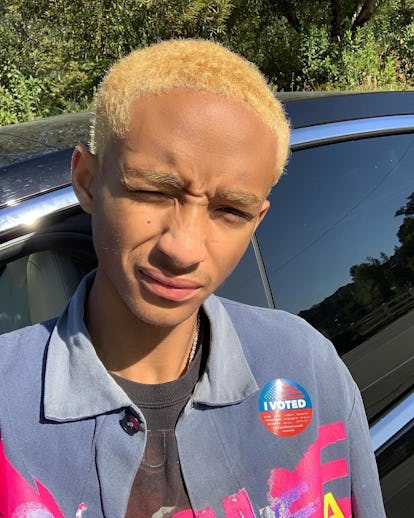 instagram.com/jadensmith
Jaden Smith may be only 20 years old, but he's already been working toward saving the planet for almost half his life. Smith, who has been on the board of his environmentally forward JUST water company since he was 11, has, in between acting and rapping, made figuring out how humans can produce less waste his focus. This past weekend, he did so alongside former vice president Al Gore, who has become one of the most outspoken voices on climate change. Though the pairing may seem unlikely—there's exactly half a century between them—Smith and Gore have a lot in common.
They put that on display during a conversation where Smith interviewed Gore and revealed that the former VP was his "mentor," per Page Six. "Al Gore and his work have inspired me from a very young age," Smith added, as The Hollywood Reporter notes. "I truly, truly owe my entire education on the environment and my passion for the world to this man."
The purpose of their conversation was to inspire more interest in the environment across generations, for which Smith has a very specific strategy. "I scare them as bad as I can," he reportedly said of his Gen Z peers. "Honestly. Because the kids in my generation, they're just like, 'Oh, I'm tough, I don't care, I'll be fine, I'll just go skate for the rest of my life.' And [I say], 'Bro, if the skate park floods, you're going to have to learn how to surf.'"
Smith also wondered how Gore, knowing everything we do about climate change, remains so optimistic. "I'm optimistic simply because I do believe that we have the ability to match this rising determination to bring change with the solutions that are already available," Gore replied. "We don't need any new breakthroughs," he argued, outlining advances in solar and wind power as well as electric cars, and advocating investment, agriculture, and forest conservation policies that need more support.
Smith has since shared photos from their talk, as well as a thank-you note. "@algore Thank You So Much For Letting Me Talk To You And For Being Our Fearless Leader In This Environmental Movement We Will Not Let You Down #SummitLa," he wrote on Instagram.
Speaking to W this summer, Smith opened up about his environmental activism, saying, "In my small corner of the world, I wanted to be a part of doing something better, and at least pushing the envelope and starting something for the next generation of humanity."
He's well on his way, as his latest Instagram post confirmed. Smith shared a selfie after hitting the polls for the midterm election and wrote, "Let's Change The World."