Jake Gyllenhaal and His Model Girlfriend are Getting Serious
Things are getting serious between Jake and Jeanne
---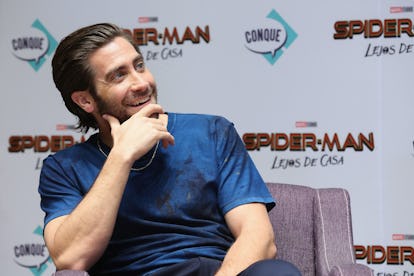 Victor Chavez
Jake Gyllenhaal has been quietly dating French model Jeanne Cadieu since at least December, and things are getting more official as Cadieu has reportedly met the Gyllenhaal family. No word on whether than means Jake's parents, his sister Maggie or some other combination of relatives, but Page Six reports that the pair are serious about each other, and have taken a trip together to Martha's Vineyard. In addition to being spotted strolling arm-in-arm around New York City, Cadieu was seen attending the play Sea Wall/A Life, which Gyllenhaal is currently starring in on Broadway.
At thirty-eight, Gyllenhaal is fifteen years older than twenty-three-year-old Cadieu, though a source told Us Weekly back in December that "Jeanne is very mature for her age," the go-to line from every age-gap romance ever. The same source said, "She and Jake really took things slow, but are now pretty serious," and things have only gotten serious-er from there.
Cadieu is signed to IMG Models and has recently shot a campaign for Australian apparel company RM Williams and promoted Levi's 501 jeans. She liked theater even when her boyfriend isn't in the show, attending Kiss Me Kate on Broadway with her brother in March. All of this information via Cadieu's Instagram, where Gyllenhaal has yet to make an appearance. Things aren't social media official yet, apparently. In fact, the model and the Spider-Man: Far From Home star don't even follow one another on the platform (though they do both follow Beyoncé, which seems correct). Which means that it's unlikely anyone slid into anyone else's DMs, begging the question: how did these two first get together? Mysterious.
Professionally, Gyllenhaal's upcoming projects include thrillers Rio, opposite Benedict Cumberbatch and his Brokeback Mountain co-star Michelle Williams (no, it doesn't have any connection to the 2011 animated bird caper of the same name) and Finest Kind, with Ansel Elgort and his Spider-Man co-star Zendaya.
Related: We Need to Talk About Jake Gyllenhaal's Gold Chain
Rihanna and Jake Gyllenhaal Make a Pretty Strong Case for Moving to London
Rihanna didn't publicly confirm that she'd been living in London for a year until May 2019, but the fans who spotted this Sainsbury's bag in her Instagram Story were already tipped off to the truth.

Photo by @badgalriri.
Jake Gyllenhaal joked about photoshopping out his Spider-Man: Far From Home co-stars during their London press tour in June 2019.

Photo by @jakegyllenhaal.
Fenty model Duckie Thot turned up at a London Cartier party in June 2019 (and sparked some rumors that she might be dating Liam Payne).

Photo by @duckiethotofficial.
In between trips to Hawaii, Jhene Aiko stopped off in London in June 2019.

Photo by @jheneaiko.
In June 2019, Zendaya showed up in London with red hair, leading fans to believe she just revealed a major Spider-Man: Far Fom Home plot point.

Photo by @zendaya.
Riz Ahmed and Noomi Rapace shared a selfie moment at the Victoria and Albert Museum during the Dior summer party.

Photo by @rizahmed.
It was a tale of two Emmas (Stone and Bunton) at the Spice Girls concert in June 2019.

Photo by @emmaleebunton.
Of course, Lily James is a Spice Girls fan too.

Photo by @lilyjamesofficial.
Dame Joan Collins attended the Royal Ascot in June 2019.

Photo by @joancollinsdbe.
Mimi Xu and Beth Ditto attend a Cartier party in London in June 2019.

Photo by @mimixumusic.
Russell Tovey took a group selfie at the Victoria and Albert Museum in London during the Dior summer party in June 2019.

Photo by @russelltovey.
Erykah Badu took a cryptic selfie (captioned with Frank Ocean lyrics) after her June 2019 concert at London's 02 Arena.

Photo by @erykahbadu.
Ralph Lauren was presented with the knighthood insignia by Prince Philip in a private ceremony in London on June 20, 2019.

Photo by @ralphlauren.