James Corden Reveals How He Almost Ruined Prince Harry and Meghan Markle's Wedding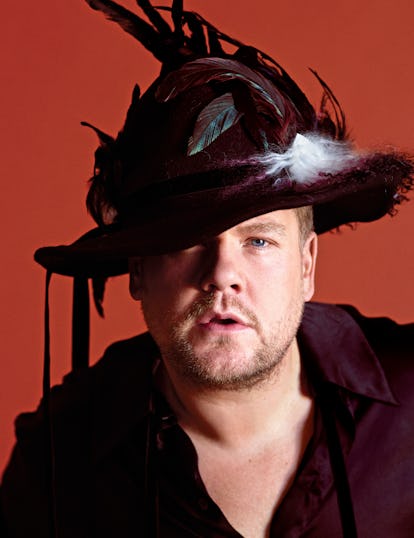 Photographs by Mario Sorrenti. Styled by George Cortina.
Everyone from Oprah to Serena Williams to Amal and George Clooney attended Prince Harry and Meghan Markle's iconic wedding on Saturday, but not all guests were perfect attendees it seems.
During The Late Late Show, another guest, James Corden, revealed that he almost landed himself in an incredibly awkward moment during the ceremony. The host explained that due to all the beautiful flowers that adorned St. George's Chapel, his allergies were flaring up. "The worst part of the ceremony for me was there were flowers everywhere, the most beautiful flowers you've ever seen," he said on Monday night's show. "And I get quite bad allergies if I'm in such close proximity to flowers. So, for a lot of the ceremony, I just needed to sneeze. Right at the point when the archbishop was saying, 'If anyone knows of any reason…' and I was like, 'Please don't sneeze. Please don't sneeze.'"
Though Corden almost made headlines for all of the wrong reasons, he dealt with his allergies gracefully. "I had to do one of those internal sneezes," he explained. "I think I got away with it." As for the rest of the event, Corden said it was just as great as anyone watching from home hoped it would be. "[My wife and I] had the absolute honor of being invited to Prince Harry and Meghan Markle's wedding. It was so lovely. I've known Prince Harry about seven years now and it was wonderful. It was one of the most beautiful ceremonies I've ever been to. It was gorgeous, it was a whole affair, it was happy, it was joyous, it was uplifting."
Despite making a "grumpy" face during the cello performance and joking about Clooney's inevitable gift of a Nespresso machine to the new couple, Corden gushed over the entire experience and the couple. "I was proud to be British on that day," he concluded. "It was a modern, forward-thinking couple having the exact ceremony that they wanted and they brought Britain and the world together for a happy occasion and I was so pleased to be there." Apparently, Corden was so pleased that he served as referee of a "dance off" between Princes Harry, William, and Charles at the reception.
Related: Everything We Know About Harry and Meghan's Royal Wedding Reception and Afterparty
Royal Wedding 2018: See the 10 Best Dressed Guests, From Amal Clooney to Troian Bellisario
Oprah Winfrey in Stella McCartney arrives at St George's Chapel at Windsor Castle before the wedding of Prince Harry to Meghan Markle on May 19, 2018 in Windsor, England.

WPA Pool/Getty Images
Sofia Wellesley arrives for the wedding ceremony of Britain's Prince Harry, Duke of Sussex and US actress Meghan Markle at St George's Chapel, Windsor Castle, in Windsor, on May 19, 2018.

CHRIS RADBURN
Carey Mulligan in Erdem arrives at St George's Chapel at Windsor Castle before the wedding of Prince Harry to Meghan Markle on May 19, 2018 in Windsor, England.

WPA Pool
Lady Kitty Spencer arrives at St George's Chapel at Windsor Castle before the wedding of Prince Harry to Meghan Markle on May 19, 2018 in Windsor, England. (Photo by Ian West – WPA Pool/Getty Images)

WPA Pool
Victoria Beckham arrives for the wedding ceremony of Britain's Prince Harry and US actress Meghan Markle at St George's Chapel, Windsor Castle on May 19, 2018 in Windsor, England.

WPA Pool
Troian Bellisario arrives at St George's Chapel at Windsor Castle before the wedding of Prince Harry to Meghan Markle on May 19, 2018 in Windsor, England.

WPA Pool
Amal Clooney arrive at St George's Chapel at Windsor Castle before the wedding of Prince Harry to Meghan Markle on May 19, 2018 in Windsor, England.

WPA Pool
Abigail Spencer and Priyanka Chopra arrive at the wedding of Prince Harry to Ms Meghan Markle at St George's Chapel, Windsor Castle on May 19, 2018 in Windsor, England.

Chris Jackson
Serena Williams, in Versace, arrives at St George's Chapel at Windsor Castle before the wedding of Prince Harry to Meghan Markle on May 19, 2018 in Windsor, England.

WPA Pool