James Franco Is Returning to Season Two of The Deuce
Forget all the sexual harassment allegations he's currently facing: HBO's graphic show about the '70s sex industry is welcoming the actor back.
---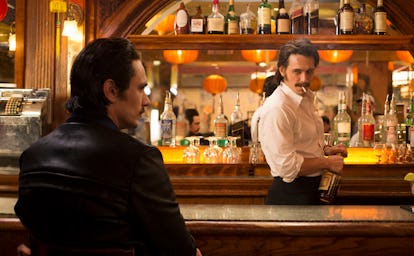 Paul Schiraldi
At the end of last year, James Franco seemed poised for a strong 2018; he'd just finished playing two characters in The Deuce, an HBO series that he also directed, and both starred in and directed The Disaster Artist, a film that was widely predicted to perform well during this year's awards season. Indeed, it did just that in early January at the 2018 Golden Globes, though that was also the point where Franco's success hit a snag; the actor accepted his award for Best Actor in a Musical or Comedy wearing a pin in support of the anti-harassment initiative Time's Up, drawing criticism from the actress Ally Sheedy, who posted a now-deleted Tweet that suggested the actor's actions were hypocritical. Then, the Los Angeles Times's article, in which five women officially accused Franco of sexual misconduct, broke.
Since the allegations officially broke in the Times, HBO had reportedly been taking a "wait-and-see approach" in how to address them going further. But in the latest proof that even in the post-Weinstein era, men accused of sexual harassment can still succeed, things seem to be returning to normal for Franco. In late January, the actor quietly attended the SAG Awards, and in February, The Deuce's scriptwriter Megan Abbott told reporters at the Writers Guild Awards that "of course" Franco would be returning to the show for its second season.
While HBO and the show's co-creator and executive producer David Simon have said they aren't aware of any complaints about Franco's behavior on the set of the show–according to Simon, "in our experience, he was entirely professional as an actor, director, and producer"–The Deuce seems like a risky setting to let Franco return to, as some of the allegations against Franco in the Los Angeles Times described his invasive conduct with students in his "Sex Scenes master class" and other acting lessons he taught. The women who came forward in the Times story not only accused Franco of inappropriate and sexually exploitative behavior, but also abuse of power, and Franco is certainly in a position of power with The Deuce–he plays not one, but two of the show's leads (the twin brothers Vincent and Frankie Martino who are at the center of the beginnings of the now billion-dollar sex industry 1970s New York), and is the show's executive producer.
"I Will Not Be Silent": Hollywood's Biggest Names Pledge to Speak Their Minds: