Jared Leto Is Getting His Own Joker Movie
And everything around it is cryptic.
---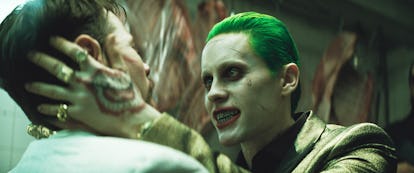 Warner Bros/Everett Collection
Jared Leto has secured a standalone movie for the Joker, a character he portrayed in the 2016 critical failure Suicide Squad. But if you've come here hoping for a lot of details to quench your Leto thirst, we're afraid we don't have much to fill you in on. Variety is reporting that beyond confirmation that the film will indeed happen—which will find Leto in the starring role and as an executive producer—absolutely nothing else is currently known. Title? Who knows. Intended production and release dates? Your guess is as good as ours. A general narrative and supporting characters? Nope.
The only thing of substance Variety notes is that Warner Bros. hopes this Leto film will parlay the Suicide Squad franchise into more cinematic opportunities, and that it would take place in the DC Comics universe. (So, the same "universe" as films such as Wonder Woman and Justice League.) However, don't confuse Leto's Joker with Joaquin Phoenix's Joker, although it's incredibly easy to conflate the two. Yes, Phoenix is also set to star as the Joker in a totally different film about the Gotham villain's origin story.
But in antihero news fans can actually use, Margot Robbie recently confirmed and talked openly about how audiences are going to be getting a Harley Quinn standalone film from Suicide Squad. (A female director is even on board!) While Robbie's not at liberty to divulge the narrative, she teased how she intends it to be an "R-rated girl gang film," because she "wasn't seeing enough girl gangs on screen, especially in the action space."
Related: Jared Leto Hitchhiking Across America Is the Most Jared Leto Thing Ever