THE REVOLUTION WILL BE INSTAGRAMMED
Lucius Malfoy Was Also Extremely Unimpressed by That Sean Spicer Cameo at the Emmys
Actor Jason Isaacs, best known for his portrayals of villains like Lucius Malfoy and Hap in The OA, chimes in on Instagram.
---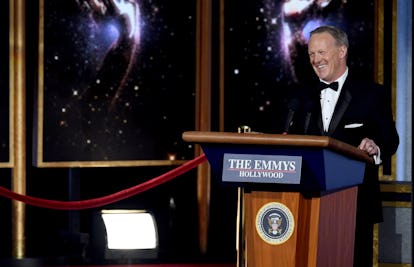 Kevin Winter/Getty Images
Former White House press secretary Sean Spicer's surprise cameo on the Emmy Awards Sunday night quickly became the most divisive moment of the awards ceremony, leading Jenny Slate to write on Twitter that she was "so grossed out" by the stunt and Kal Penn to note "he still passionately advocated against human rights, health care, & American values"—but perhaps most telling of all was the expression on Melissa McCarthy's face at the moment Spicer emerged onto the stage.
Many in Hollywood and on social media alleged Spicer's awards show appearance normalized the deceit he peddled as the mouthpiece of the White House. After all, late-night host James Corden was pictured backstage kissing Spicer on the cheek; was this so different from Jimmy Fallon petting Donald Trump's hair on The Tonight Show?
Spicer himself described the experience as "an attempt to poke a little fun at myself and add a little bit of levity to the event" in an interview with the New York Times Monday, adding that he hoped Trump would not be offended because it seems Trump staffers are constitutionally incapable of having a backbone, even after they've been humiliated by the president and fired.
On Sunday night, actor Jason Isaacs lent his voice to the chorus of protests over the Spicer cameo in a vehemently worded Instagram post. In the first of two selfies, Isaacs is pictured just hanging out with Elisabeth Moss's newly earned Emmy; in the second, he wears a look of consternation, Spicer seen at the bar in the background. And in the caption, the actor—who, by the way, played both Lucius Malfoy in Harry Potter and also Hap in The OA?—excoriated the Emmys for including Spicer, the former White House press secretary, in the show.
"Hoping to forget politics for one night and bask in other people's glory at the #Netflix #Emmysparty and who do I spot at the bar late at night but the poisonous purveyor of lies #SeanSpicer," Isaacs wrote. "What were the Emmys thinking celebrating this modern day Goebbels, who was the thuggish face of Orwellian doublespeak just moments ago?" (Isaacs, for the record, is a Liverpudlian, but is apparently just as invested in American politics.)
Isaacs continued: "Three surprising things about him: 1) He comes about up to my nipples [ed. note: Isaacs is a mere 5'11"]; 2) He doesn't think he should hide himself under a rock from shame for the rest of his life; 3) He's deeply unattractive, from the inside out. Has the aura of a giant festering abscess. Strange, since he was so charismatic at the (elevated) podium." Just as Trump must embellish crowd sizes, Spicer must maximize impressions of his own height—or else be forced to recede into the bushes.
Colbert himself has not responded to the criticism (though it was reportedly his idea to feature Spicer in the show), but a "source on the Emmy production team," speaking under condition of anonymity to New York magazine, admitted, "There was no expectation everyone would love this," adding that featuring Spicer in the show was intended to make the former press secretary the joke himself, rather than someone in on the joke. (What, exactly, that joke was remains unclear, but the source was adamant: "We made him the joke," they said. "We made him the joke.")
"Why would Colbert wake up trying to find a way to normalize Sean Spicer? What possible, possible reason would he have to do that?" the same source told New York magazine. "You can only control the intention of the joke, not the interpretation."
Brit Marling was She-Ra Princess of Power on her favorite birthday: