Hello, Ladies of Miami: Jean Pigozzi is in Town
The international man about town as been enjoying the pretty sights during Art Basel Miami Beach.
---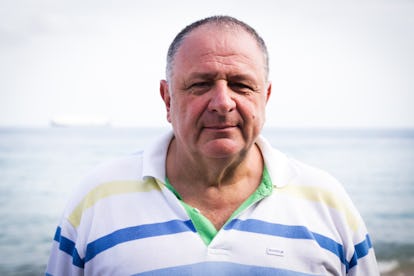 A fixture in the art world and the international party circuit, Jean Pigozzi has been a regular at Art Basel Miami Beach for over ten years. Best known for his collections of African and contemporary Japanese art, Pigozzi, a self-proclaimed hoarder, hooked up online auctioneers Paddle8 to sell some of the tchotchkes he's accrued over the years, which in his case include everything from a pair of sneakers to a Robert Ryman.
You travel to fairs around the world. What makes them worthwhile? I love the concept of fairs in general – in two hours I can see 500 galleries that would have taken take me months, having to go between Paris, London, and New York. I'm very pro-fairs. At Basel, the quality is much higher. The best collectors come here and you see more here. You're in New York freezing, then come to Miami for four days, you're in the sun when it doesn't rain, and you see your friends from around the world. And I don't mind the pretty girls.
What differentiates Art Basel Miami Beach from the others? Seeing how the women dress to go to the fair at Basel Miami. It's completely inappropriate. Ninety percent of them are wearing high-heels, low-cut dresses, and mini skirts. I think they're looking for husbands more than art. At times I'm more fascinated by the girls' outfits than I am by the art I see at the fair. I can imagine the decisions that go into it. "Should I take my crocodile bag or my orange Birkin because it's more artsy?" I think they spend weeks looking at themselves in the mirror trying to find the right outfit. I saw some fabulous outfits at the fair yesterday.
Ladies aside – you have one of the largest African art collection in the world. How did you originally get into collecting? It's a disease. Twenty-five years ago I went to an African art show at the Pompidou on the day it was closing. At the time, my impression of African art was what I always saw at the Metropolitan Museum – wooden animals, african masks, etc. But they were exhibiting these beautiful paintings so I called the museum and asked if I could buy them, they said no but introduced me to one of the people responsible for coordinating the exhibition. I ended up working with him for 22 years.
And yet, 25 years and you've never been to Africa… And I'll never go. I'm a very nervous traveler. I get nervous in traffic jams. Even imagining waiting in the immigration line at JFK gives me anxiety.
Have you found anything to add to your collection this year? Yes, I got some great pieces from my African art gallery, the Goodman Gallery. One that I love in particular.
Can you describe? It's a great political video. During the apartheid, when there was a demonstration, the police would use colorful dyed water to paint the participants green so they could find them in the streets. Different colors were used in different countries – Uganda would use pink, India would use blue – it's a video about these different paints around the world. I also bought a video featuring a South African girl cosmic dancing.
What experience that you had in the last 24 hours stood out to you the most? I went to Adrian Brody's painting show that was held in a really crummy part of Miami. The entire thing was really interesting. I also went to the Rubell Family Collection to see their women exhibition – it was a very interesting idea.
Any anti-art experiences? I went to the Webster and bought a pair of Valentino camouflage sneakers.
What characters comprise your Basel rat pack? Director Brett Ratner and creative consultant Cary Leitzes.
Basel Miami is known for it's 24-hour party circuit. What's been your favorite so far? Larry [Gagosian] 's dinner was fun. Every evening you have five dinners and twenty parties. So you have to be selective. At Basel Switzerland, the art is more serious but not nearly as fun as Miami. I don't go to nightclubs though. I don't know how people go to the fairs and then go out.
And how did you come to link up with Paddle8? They approached me. I'm a complete hoarder. I've been buying things for years and years but I really need to concentrate on my African and Japanese collections. There is so much that doesn't fit in my collection so this auction was the perfect idea.
Ten years at the fair is a long time. Do you have any Basel traditions? I go to the same Lebanese restaurant every time I come here, and I never swim in the ocean. I'm too nervous about the jelly fish.
The World's Most Glamorous Pool Party, Then and Forever
"Naomi Campbell with Mick and Bono (the dogs)", 1993.
© Jean Pigozzi. Courtesy Gagosian Gallery
"Ali Hewson and Bono", 1999.
© Jean Pigozzi. Courtesy Gagosian Gallery
"Helmut Newton", 1987.
© Jean Pigozzi. Courtesy Gagosian Gallery
"Willy Rizzo, Ahmet Ertegun and Nan Kempner," 1988.
© Jean Pigozzi. Courtesy Gagosian Gallery
"Sharon Stone", 1992.
© Jean Pigozzi. Courtesy Gagosian Gallery
"Elle Macpherson", 1991.
© Jean Pigozzi. Courtesy Gagosian Gallery
"Fireworks", 2013.
© Jean Pigozzi. Courtesy Gagosian Gallery