Jenna Bush Hager Posts A Tribute To Grandfather, and Former President, George H.W. Bush, Who Passed Away at Age 94
"I will miss him desperately"
---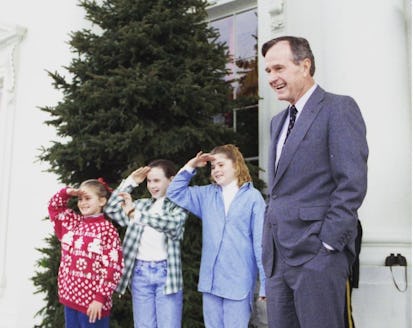 Instagram: @jennabhager
George H.W. Bush, the 41st president of the United States, died yesterday at the age of 94. This morning, his granddaughter Jenna Bush Hager, daughter of President George W. Bush, remembered him on Instagram, posting a picture of herself, her grandfather and her twin sister Barbara smiling at the camera with the caption, "Waking up missing this giant of a man who gave me everything. He taught me and my family about service, family, decency, and the power of gentle words and a beautiful heart." Touching on the bittersweet solace of an elder's passing, she wrote, "I will miss him desperately, but so happy he and my Grandmother are back together," referring to the death of the elder Bush's beloved wife Barbara earlier this year.
In a second picture in the same post, then-president Bush smiles by a Christmas tree at the White House as the twins and another Bush granddaughter salute the crowd. The younger Barbara is so excited that she's waving with her other hand.
In another post, Bush Hager revealed that her grandfather hoped in death to be reunited with the soul of his daughter Robin, who died at the age of three, sharing a cartoon depicting the family patriarch's arrival in the afterlife.
As the Bush family mourns, others in the political establishment are remembering the first President Bush's many accomplishments, including overseeing a peaceful end to the Cold War during his term in office. "I am incredibly saddened by the passing of President George H Bush. A member of the greatest generation and a real hero in his right. A true friend to the entire McCain family. We are all sending so much love, strength and prayers to the entire Bush family – God bless you all," tweeted Meghan McCain, daughter of the late senator John McCain.
A statement from President and First Lady Trump spoke highly of the late commander-in-chief and read, in part, "his example lives on, and will continue to stir future Americans to pursue a greater cause." On Twitter, the president remembered that "Whenever I was with [President Bush] I saw his absolute joy for life and true pride in his family."
In a statement, President Clinton, who successfully defeated President Bush in his bid for re-election, wrote, "I am profoundly grateful for every minute I spent with President Bush and will always hold our friendship as one of my life's greatest gifts."
President George W. Bush, who followed Clinton's tenure in the Oval Office, released a statement that said simply, " "Jeb, Neil, Marvin, Doro, and I are saddened to announce that after 94 remarkable years, our dear Dad has died. George H. W. Bush was a man of the highest character and the best dad a son or daughter could ask for. The entire Bush family is deeply grateful for 41's life and love, for the compassion of those who have cared and prayed for Dad, and for the condolences of our friends and fellow citizens."
See the many social media tributes below: