Everyone Calm Down: Jennifer Aniston Is "Not Heartbroken"
He may be just fine in her book, but the rumor mill definitely isn't.
---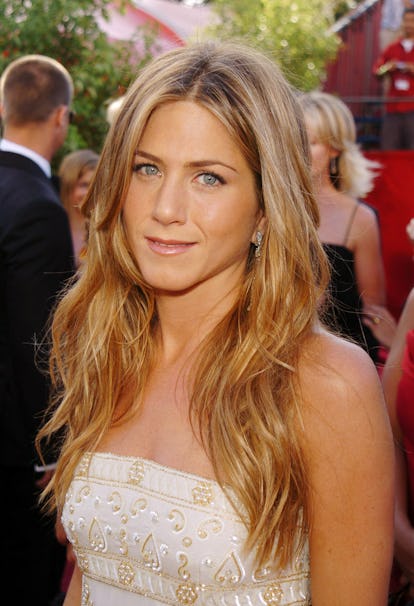 George Pimentel/WireImage/Getty Images
It's officially September issue season, which, as of this morning, has brought a lengthy, animated interview with Jennifer Aniston along with it. Indeed, the ground that Aniston covered in her cover story for InStyle is quite remarkable—she not only talked about everything from being a "creeper" on social media to how she "fantasize[s]" about a Friends reunion, but also found time mid-interview to Google herself, outsourcing assistance to tackle the apparently enormous pool of options for what might be the biggest misconception about her. "Let's see," she said while typing, before adding, "Oh, look, I'm having a $100,000 revenge makeover!"
As far as that one goes, Aniston minced no words describing how she's dealt with much, much worse. "It's pretty crazy. The misconceptions are 'Jen can't keep a man,' and 'Jen refuses to have a baby because she's selfish and committed to her career.' Or that I'm sad and heartbroken," she said, referring to some of the "ridiculous headlines" about her that may ring a bell. They've followed Aniston and, according to her, "gotten more and more absurd" for years and years. They've also, of course, been proliferating since this past February, when Aniston and her partner of six years, Justin Theroux, announced that they were separating (and, in fact, had been separated since the end of 2017).
Here's hoping she and Theroux really are buddies who "still talk all the time," or else the takedown she proceeded to deliver might also serve as a rude awakening. "First, with all due respect, I'm not heartbroken," Aniston said simply. "And second, those are reckless assumptions. No one knows what's going on behind closed doors. No one considers how sensitive that might be for my partner and me. They don't know what I've been through medically or emotionally," she continued.
Aniston also spoke more generally about double standards for women, pointedly asking, "When was the last time you read about a divorced, childless man referred to as a spinster?" Opening things up to outside of Hollywood, she then addressed how women are "deemed damaged goods" if they don't give in to the "pressure" to be mothers—something she personally takes issue with, too. "Maybe my purpose on this planet isn't to procreate. Maybe I have other things I'm supposed to do," she added. (Rest assured, the casual mention she makes of her "kids" later in the story is only in reference to her dogs.)
Related: Jennifer Aniston Is No Longer Dating Actors
The Evolution of Jennifer Aniston's Iconic Hair
Aniston arrived at the screening of Serving in Silence: The Margarethe Cammermeyer Story in 1995 with shoulder-length brown hair and a matte mauve lip.

Photo by Getty.
At The Object of My Affection film premiere in 1998, Aniston wore her hair in a playful, knotted up do.

Photo by Getty.
Aniston wore her golden blonde locks in twisted curls at the Meet Joe Black film premiere in 1999.

Photo by Getty.
Aniston has a red carpet moment at the 72nd Annual Academy Awards in 2000, wearing her long, straight hair with a slick middle part.

Photo by Getty.
Aniston debuted newly chopped locks with a glossy pink lip at the 2001 People's Choice Awards.

Photo by Getty.
The Friends star wore her golden locks in natural, tousled waves to celebrate her Emmy win in 2002.

Photo by Getty.
At the 56th Annual Primetime Emmy Awards in 2004, Aniston wore a natural face with long tousled waves.

Photo by Getty.
Aniston rocked tousled bangs and rosy cheeks at the 61st Annual Golden Globe Awards in 2004.

Photo by Getty.
Aniston looked naturally chic with a high tousled pony and luminous skin at the Friends With Money film premiere in 2006.

Photo by Getty.
At the 2009 Vanity Fair Oscar Party, Aniston wore her hair in a chic side french braid with loose curls.

Photo by Getty.
With her highlighted blonde locks, Aniston rocked a faux bob at the UK Horrible Bosses film premiere in 2011.

Photo by Getty.
At the We're The Millers film premiere in 2013, Aniston wore her tousled locks swept over with a subtle blue smoky eye.

Photo by Getty.
Aniston wore her golden brown locks in a sleek bob with a glossy pink lip at the Life of Crime premiere in 2014.

Photo by Getty.
At the 72nd Annual Golden Globe Awards in 2015, Aniston wore her hair in a swept back up do with a bold eye and pink lip.

Photo by Getty.
Aniston rocked her signature slick straight hair and natural makeup at the film premiere of Mother's Day in 2016.

Photo by Getty.