Jennifer Aniston Is No Longer Dating Actors
The actress is reportedly dating again, five months after her separation from Justin Theroux.
---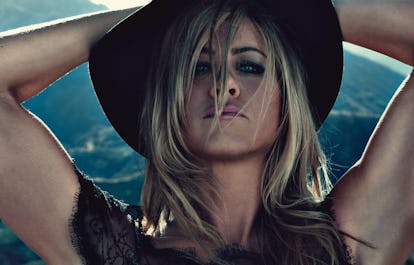 Steven Klein
Jennifer Aniston is taking a break from dating her usual type. According to sources at Us Weekly, the actress has begun to take a dip back into the dating pool, while filming Adam Sandler's Netflix comedy Murder Mystery, (part of Sandler's eight movie deal with the streaming giant) in Montreal. This time around, though, two very different men are vying for Aniston's undivided attention.
Sources revealed that a close friend introduced Aniston to a recently divorced "tech titan" and the other is "an industry creative," which makes them perfect boyfriend material for her because neither of them are actors, unlike her two previous husbands Brad Pitt—to whom she was married for five years—and Justin Theroux—to whom she was married for just over two years.
Of course her exes are no strangers to the dating rumor mill, either—Pitt was rumored to be dating MIT professor Neri Oxman for months after his split from Angelina Jolie (he's still single, though), and Theroux has recently been linked to Emma Stone and Queer Eye's Jonathan Van Ness (they're all just platonic besties, don't get it twisted). And though it was reported that Aniston and Theroux "still talk all the time" after their amicable split (which was possibly attributed to a desire to live on opposite coasts of the United States), the two are very much no longer a couple.
While her exes may stoke the flames behind their dating rumors as they begin to churn out, Aniston, on the other hand, tends to keep a low profile when it comes to romance. Close friends have revealed to Us that the actress is feeling positive about her return to the dating world, and as long as her suitors come from a different line of work than her own, she'll turn out just fine.
Related: The Celebrity Furniture Guru Behind the Homes of Jennifer Aniston and the Olsen Twins