Jennifer Aniston and Justin Theroux 'Still Talk All the Time'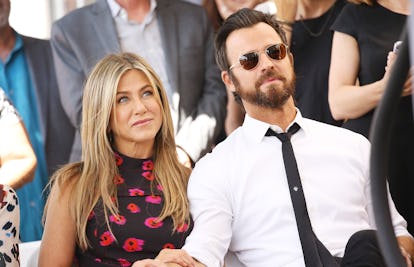 Michael Tran/FilmMagic
Not every breakup is a dramatic one; sometimes it's just the product a calm, rational discussion between two adults. Jennifer Aniston and Justin Theroux seemingly fall into that category. After the rumor swirled that the couple's surprising breakup was due to them favoring different coasts — Theroux prefers New York while Aniston has built a home for herself in Los Angeles — more evidence has emerged in favor of an amicable split. Apparently, "Justin and Jen still talk all the time," says a source close to the couple, per People.
Aniston seems to be doing just fine, too. "She's in an OK place as she was in control of the situation," the source said, adding that the actress has been relying on her support system, including her former Friends co-star Courteney Cox, "Spending time at Courteney's always make her happy."
It's friendship, or lack thereof, which allegedly contributed to Aniston and Theroux's decision to separate. "He much prefers being [in New York] and that's been a major issue for them for a long time," another source revealed earlier this month. "Justin has a very diverse friend group, and he likes that they're not all in the industry. He's friends with people in the restaurant world, writers, comedians, artists, tattoo artists. It's an eclectic group and he doesn't have that type of network in L.A."
Aniston reportedly tried to lay down roots in New York but never quite took to it, no thanks to the paparazzi, which allegedly stalked her. "She just never really could get settled in. She wasn't happy [in New York]," the source said. "He was bicoastal, she was not."
When the pair announced they would be separating, they didn't give a reason for their split. Instead, Aniston's longtime publicist issued a statement saying, "Normally we would do this privately, but given that the gossip industry cannot resist an opportunity to speculate and invent, we wanted to convey the truth directly. Whatever else is printed about us that is not directly from us, is someone else's fictional narrative. Above all, we are determined to maintain the deep respect and love that we have for one another."
Accordingly, as for what the pair talk about these days, it's none of our business.
Related: The Celebrity Furniture Guru Behind the Homes of Jennifer Aniston and the Olsen Twins