Jennifer Garner and Ina Garten Met Up to Share Some In-N-Out Burgers
Just super casual friends going out for some Animal Style.
---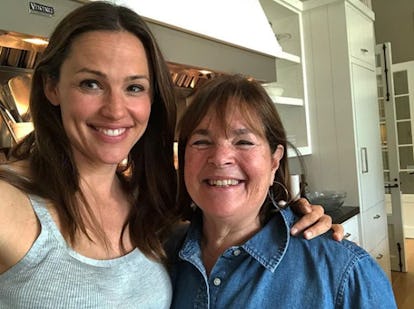 Instagram/jennifer.garner
In just the last few months, Jennifer Garner and Ina Garten's friendship has blossomed into the Hollywood-culinary crossover of our dreams. It all began when they spent some time together in Garten's Hamptons home over the summer, then escalated dramatically at Thanksgiving, when Garten featured one of Garner's recipes on her holiday special. Now, Gartner—as they shall henceforth be known—have taken their friendship out of their kitchens and into…a different kitchen.
On Thursday, Garten shared a photo on Instagram of her and the actress at a Southern California In-N-Out restaurant. "Only the best for my friend @jennifer.garner," she captioned the picture, in which she and Garner, like true best friends, sit on the same side of a booth and hold up their burgers for the camera. "What a fun way to wrap up my fall book tour!" Garten added. And while it's hard to tell from the photo what the two icons ordered at the fast-food chain, when an Instagram user mused in the comments about whether Garten orders her burger "Animal Style" (with pickles, grilled onions, extra Thousand Island spread, and mustard-grilled patties) the chef replied, "Of course!! So did Julia Child!" The more you know.
Garner has yet to post about the outing on her own account, but she's repeatedly gushed about Garten on Instagram and beyond. "I understand if this brings up big feelings for you ?, but I spent the morning with @inagarten. ❤️ In her barn kitchen, in her garden, having coffee…yes. It's true," she captioned a selfie of the pair during their hangout in July, adding, "Thank you for the perfect morning, Ina, you are beloved for a reason." Garten also shared the same photo from their day together on her own page, writing, "Nothing more soul satisfying for me than to spend time with a smart, compassionate woman I admire."
And in November, when Garten chose to feature one of the Pretend Cooking Show star's recipes on her Thanksgiving special, Garner excitedly shared the news on Instagram. "My darling @inagarten has been kind enough to share Grandma's pudding on her Thanksgiving episode!" she captioned a video of her making a sweet potato pudding. "Thank you, Ina, for having me."
Clearly, Gartner have come a long way since a few years ago, when Garten allegedly rebuffed Garner's attempts to guest-star on Barefoot Contessa. "I know somebody who is a friend of hers, and she says she's going to get us together," Garner told W in 2010. "I tried to get on Ina's show. I tried to use my, well, you know—I say, use what you have to make the world better for yourself! But eventually she just said, 'I'm sorry, I only use my real friends on the show.' I felt like, 'What are you saying? That we're not friends? I know everything about you!'" How far things between them have come.