Jennifer Garner Is Teaming Up With Ina Garten for the Cooking Show of Your Dreams
PretendCookingShow is ready for prime time.
---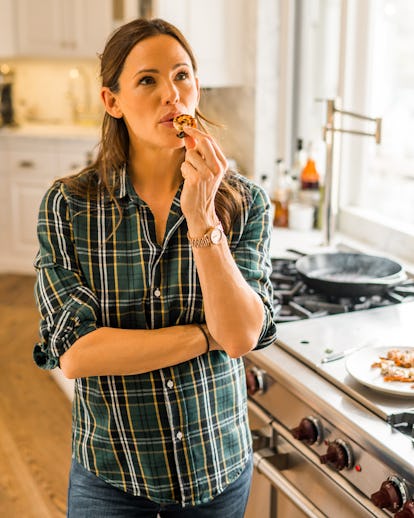 @jennifer.garner
If you follow Jennifer Garner on Instagram, you'll surely already know about #PretendCookingShow. And if you don't, well, you're in for a true delight. The actress and mom of three regularly posts short cooking tutorial videos to her feed, clips in which she explains how to assemble quick meals like whatever's-in-season salads (she's also a big proponent of farming, see her #soyouthinkyoucanfarm hashtag for more details) and fried fish sticks. Despite the name, her cooking show is actually pretty real—it's just a bit smaller screen than, say, Ina Garten's Barefoot Contessa.
Only now, just in time for Thanksgiving, Garner is actually embracing her own Barefoot Contessa, quite literally. As she told Entertainment Tonight over the weekend, she recorded a segment for Ina Garten's Thanksgiving special. "I did a pretend cooking show," she said. "That's my big Thanksgiving plan." (Given that Garner is balancing a career Renaissance with various side projects—including the cooking show, baby food brand, and parenting three children—there are sure to be other, smaller Thanksgiving plans in the works.)
Back in July, Garner posted a photo of herself hanging out with Garten in the Barefoot Contessa's own kitchen. "You are beloved for a reason," she wrote in the caption, adding that they spent the morning in Garten's barn, garden, and kitchen, drinking coffee and poring over the then-forthcoming Cook Like a Pro. And when Garner wrote that she was excited to "continue the conversation," she really meant it. Garten posted the same photo to her own feed the same day, writing, "Nothing more soul satisfying for me than to spend time with a smart, compassionate woman I admire."
The day after hanging out with Garten at her home, Garner made her way to Martha Stewart's kitchen to make lobster sandwiches and peach pie. #PretendCookingShow definitely has a very real future.