Julia Roberts, Unrelatable Queen, Sometimes Gets Herself Confused With Jennifer Garner
And occasionally Juliette Binoche as well.
---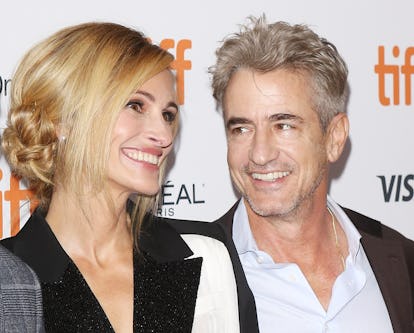 Michael Tran/FilmMagic
While many of us non-celebrities have, from time to time, entertained the idea that we bear a passing resemblance to some A-lister or another, we're unlikely ever to confuse ourselves with the faces on the big screen. Not so for Julia Roberts, though, who does, in fact, sometimes find herself mistaking her own Hollywood doppelgängers for herself. Such, it seems, are the identity-altering perils of fame.
In a thoroughly delightful, altogether charming "Autocomplete Interview" for Wired with Roberts and Dermot Mulroney, her costar in My Best Friend's Wedding, August: Osage County, and now Homecoming, the pair were asked to answer popular Google searches about themselves. When prompted with the query "who does Julia Roberts look like," the pair immediately thought of her niece (Emma Roberts) before Roberts came up with some less obvious comparisons. "Oh, Juliette Binoche!" she said. "And I always think I see myself in magazines, and it turns out I flatter myself, 'cause it's Jennifer Garner." Imagine being so accomplished and in demand that seeing "yourself" in a Neutrogena or Capital One ad that you don't remember signing up for doesn't immediately raise any red flags!
Elsewhere in the interview, Roberts and Mulroney confirmed that they have, indeed, remained best friends since playing them onscreen back in 1997—even if Mulroney has made a habit of waiting approximately 15 years before finally watching his pal's biggest hits. (For what it's worth, when he did get around to watching Pretty Woman, in 2005, he thought it was "terrific.") Mulroney also answered the age-old question, "Is it Dylan McDermott or Dermot Mulroney?" before revealing that, in her spare time, Roberts stays busy by "maintaining her agreement with America to always be young and beautiful." As for how, exactly, she holds up her end of that bargain, Roberts quipped, "Eat well. Love a good man. Happiness, fulfillment." But, she added, "No onions." Noted.
And though Roberts and Mulroney have found plenty of opportunities to team up since costarring in My Best Friend's Wedding, they're not opposed to stepping back into Julianne and Michael's shoes. In a recent interview with Entertainment Weekly, Roberts admitted to wondering what the iconic rom-com's characters would be doing two decades later. "I guess I think maybe it's just because we're talking about Dermot. But Rupert [Everett] was so funny in My Best Friend's Wedding. I guess Kimmy [Cameron Diaz's character] and Michael are married and they probably have kids. And then there's me and Rupert," she said. Mulroney, too, was into the idea of a sequel: "I'll tell you, that movie has wormed its way further and further under my skin, and I see more and more layers of how it holds meaning and sustains as a piece, and, obviously, it's always been irresistible," he told EW. "I think there's only about four people on Earth who could make a movie like that, and they include Rupert, Cameron, Julia, and me. So, let's have at it."
Related: Julia Roberts, Jennifer Lopez, and More Actresses Who Define Aging Gracefully
Julia Roberts, Jennifer Lopez, and More Actresses Who Define Aging Gracefully
Singer, actress, and dancer Jennifer Lopez looked half her age at the 59th Grammy Awards, wearing her hair sleek straight and middle-parted with a lavender smoky eye and luminous skin.

Photo by Getty.
Natural beauty Halle Berry has tried every hairstyle in the book–from her signature pixie, to long, flowing waves–and they all work for her.

Photo by Getty.
As the face of anti-aging skincare brand SK-iii, it's no surprise that Cate Blanchett has flawless skin. Case in point: the actress' radiant complexion at the 88th Annual Academy Awards.

Photo by Getty.
Brunette beauty Sandra Bullock has been in the public eye for decades, and always loves an understated, glamorous look on the red carpet.

Photo by Getty.
South African beauty Charlize Theron stunned at the 89th Annual Academy Awards wearing her hair in an elegant up do with light golden smoky eye and a satin pink lip.

Photo by Getty.
Jennifer Aniston has a go-to look: golden hair, sun-kissed skin, eyeliner, and a glossy lip. And it works for her.

Photo by Getty.
Actress Gabrielle Union always wows on the red carpet, with her bright smile and glowing complexion.

Bennett Raglin/Getty Images
Actress Kate Winslet poses at the EE British Academy Film Awards wearing her hair in tousled curls with creamy, porcelain skin and a satin red lip.

Photo by Getty.
Always radiating with luminous, sun-kissed skin and golden waves, Kate Hudson attends the 2017 Vanity Fair Oscar Party.

Getty.
Actress Amy Adams made her cinematic debut in the '90s, and is still a red carpet favorite today.

Pascal Le Segretain/Getty Images
Reese Witherspoon always knows how to keep her look timely and fresh, as she proved here at the 2017 Vanity Fair Oscar Party.

Getty.
For Eva Mendes, her luscious brown waves and luminous, sun-kissed skin have always been a red carpet staple.

Getty.
Angelina Jolie may no longer try daring hairstyles like a buzzcut, but she has maintained her classic beauty flawlessly.

Photo by Getty.