Julia Roberts, Pretty Woman's Original Vivian, Just Met Her Broadway Counterpart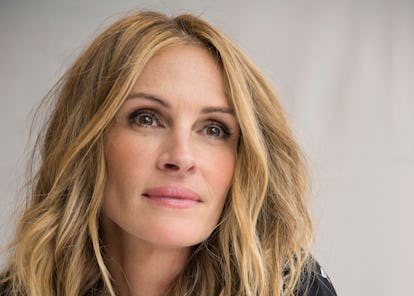 Vera Anderson/Getty Images
Talk about your ultimate celebrity sighting: On Thursday evening, Julia Roberts, who starred as Vivian Ward in Pretty Woman, attended a special preview performance of the Broadway adaptation of Garry Marshall's 1990 classic dedicated to the late director, who helped adapt his film for the stage and had a hand in assembling the musical's creative team before his death in July 2016.
On her way into New York's Nederlander Theatre, Roberts walked the red carpet with Marshall's widow, Barbara. The actress wore black leather pants and a chic black blazer over a bright orange Laverne & Shirley T-shirt (Marshall created the hit TV show in the late '70s), and she accessorized with a black leather clutch and simple black heels. Once inside the theater, according to People, Roberts was met with applause as she made her way to her seat, but attempted to hush the crowd by putting a finger to her lips and flashing her signature grin. During the curtain call at the end of the performance, Roberts was reportedly one of the first audience members to hop out of her seat for a standing ovation. No word yet on whether she turned to the people around her to say, in true Vivian fashion, that the show was "so good, I almost peed my pants," but, judging by Roberts's reaction, it doesn't seem outside the realm of possibility.
After the show's cast and producers paid homage to Marshall—in part by unveiling a plaque dedicated to the prolific filmmaker and placed on the seat from which he watched his first Broadway show—Roberts posed with the cast backstage. On Friday, she posted one of those photos, a close-up shot of her and the show's Vivian (played by Les Misérables star Samantha Barks), on her brand-new Instagram account. "Lovely to meet this talented woman," Roberts captioned the photo, also praising Barks's colleagues with a "#supercast" tag. Barks shared the photo on her own page, and tweeted, "Ok so…. Julia Roberts came to watch us in @PrettyWoman tonight…and life will never be the same again!!!" Indeed, the appropriate reaction to meeting Roberts while reprising one of her most iconic roles.
Related: Natalia Vodianova Has a Girl Crush on Julia Roberts in Pretty Woman