Jennifer Garner and Violet Affleck Had to Be Rescued From a Kayaking Trip Gone Wrong in Sweden
"Did I get us lost in a kayak? Yes."
---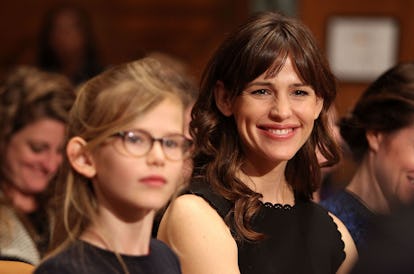 Paul Morigi/WireImage
Jennifer Garner's quest to become the world's most relatable actress is well underway. The Love Simon star, whose been enjoying a renaissance lately, attempted to go on an outdoorsy outing with her daughter, 12-year-old Violet Affleck, and the results were hilarious.
The pair were vacationing in Sweden, when they decided it might be fun to kayak around the city. "On a pre-middle-school sneak away with my eldest," as Garner tells the story, on Instagram. Things quickly took a turn, though.
"Did I get us lost in a kayak?," Garner wrote, "Yes. Did we paddle as hard as we could for 100 hours and end up in a shipping lane? I'm afraid so. Did we have to be rescued? Yup."
Thankfully, Garner and Violet didn't have to wait long to be saved from the shipping lane. "#thankyoumattias," she wrote on Instagram, later sharing a selfie with their rescuer.
The company she rented the kayak from confirmed as much, writing, "Mattias, one of the champions of the Långholmen kajak team, got a call from Jennifer Garner one evening. She was lost on the waters of Stockholm with her daughter in one of our double kayaks. Mattias got into a kayak of his own and started searching for them. Fortunately, he found them not too far away and was able to guide them back to our rental."
Between her Swedish kayaking adventure and filming her new HBO limited series Camping, Garner has putting in quite the amount of time outdoors this year. Violet, who recently celebrated her 12th birthday with an upscale kids-only party, no doubt kept her mom in good spirits while they were waiting for help. The pair have quite the mother-daughter bond as Garner revealed to Vanity Fair a couple of years ago, adding that they were roommates at the time. "I used to think I would never watch television on my phone, but there I am, because I am sleeping next to my daughter." Garner said. "I'm happy to have her; she's happy to have me."