The Jennifer Garner Renaissance Is Upon Us
Some might even call it a "Jenaissance."
---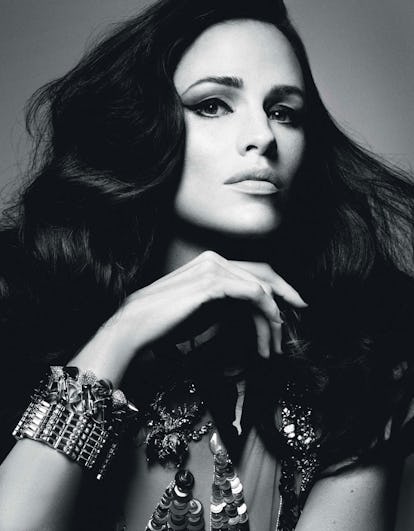 Photo by Craig McDean. W Magazine, February 2010.
The Jennifer Garner renaissance—or Jenaissance, if you will—is now upon us. She once shocked audiences as the slinky CIA spy Sydney Bristow for five seasons of Alias, was "30 and flirty and thriving" in 13 Going on 30, and broke hearts in Juno, the Oscar-nominated indie darling of 2007. But it has been a while since Garner's name has circulated with as much delight and excitement as it has these past few months. All you need to do is look to her standout performances in recent projects like Love, Simon and her imminent return to television in the HBO series Camping (created by Lena Dunham and Jenni Konner), or even the fact that this year's only good Oscars reaction meme came from Garner, for proof that she is finally back. Mix all that in with her silly Instagram presence, and it becomes clear that the actress is fully living her best life.
When she married Ben Affleck in 2005, together they became Bennifer 2.0 (the original Bennifer consisting of Jennifer Lopez and Affleck) until their divorce 12 years later. In 2016, she gave an interview to Vanity Fair in which she outlined her side of things after separating from Affleck, just before cleverly dissing his giant back tattoo. The profile was followed by Anne Helen Petersen's analysis of Garner's career and appearance in tabloids for the past few years, unpacking the level of star power the actress upholds with her "good girl" image. That gaudy back tat has made headlines again recently (Affleck once insisted that the ink of a phoenix rising from the ashes on his entire back was temporary for an upcoming role, but now we know for sure it is unfortunately very real).
Back in 2016, Garner told Vanity Fair, "You know what we would say in my hometown about that? 'Bless his heart.' A phoenix rising from the ashes. Am I the ashes in this scenario?… I take umbrage. I refuse to be the ashes." Now that is how you win a breakup. And everyone knows another key to winning a breakup—although not necessarily the motive behind Garner's silly presence on social media—is to have a good time on Instagram and look good while doing it.
While taking in Garner's Instagram posts, try to isolate them from any sort of context for a second. Forget that she's an actress or that she used to be married to Ben Affleck. Her posts can be totally off the cuff and ridiculous, showcasing a silly, childlike side of Garner that most of us have not seen in far too long. Between making homemade bagels, dining with the legendary chef Ina Garten, and trying her hand at creating her own memes, she is giving us a glimpse into her playful side. She is giving us mother-of-three realness. She is serving up memeable content that can and should be shared far and wide. She is really just out here having the time of her life on this platform.
For example, there was the time she shared a throwback video of herself yelling into her phone in the car after a dose of dental anesthesia, laughing gas, and a healthy serving of Hamilton. Or when she showed us what it's like to pop in a mouth guard for a cage-fight scene, while admitting, "I'm uncomfortable. And I'm also unhappy." (A major mood if there ever was one.)
How about every time she's flooded her Instagram with recipes for healthy snacks like kale chips, or going to the backyard to taste peppers that end up being so hot she is forced to clap along while spitting "regret, regret, regret" as her newest mantra?
Garner suddenly seems to have a knack for immortalizing every quirk of hers on Instagram—she owns a chicken named Regina George, whom she takes on walks around the neighborhood, and narrates a series of posts called "#TutuTuesdays," wherein she deploys her "instastalking knowledge" to narrate videos of her favorite ballerinas.
And finally, this is the post from Jennifer Garner that will send you over the edge (in a good way). In the video, Garner is dressed in her finest marching band uniform (hat, plume, gloves and all), and marches out onto the field (her backyard) to play "Happy Birthday" on the saxophone in honor of her friend Reese Witherspoon's day of birth. It may not have been a well-known fact that Garner was a saxophone player (although she did admit that she was "third chair, all county" in marching band during a video she posted in November), but this birthday message is so delightfully weird and actually impressive that she may never post anything quite as endearing ever again.
Related: Jennifer Garner to Return to TV in HBO Series by Lena Dunham and Jenni Konner Called Camping