The Rise of the Art Bro as Jennifer Lawrence and Other Celebrities' Preferred Boy Toys
What's better than getting yourself a tech bro or an SNL writer these days? Getting yourself an art bro.
---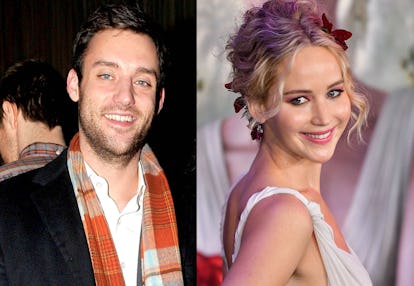 Getty Images
As much of a shocker as it was when Ariana Grande got engaged to Pete Davidson earlier this summer, it was already something of a trend for celebrities to find romance in the Saturday Night Live ranks. Pre–Pete and Ariana, there was, well, Pete and Cazzie David; Ben Affleck and producer Lindsay Shookus; Emma Stone and writer and segment director Dave McCary; and Scarlett Johansson and writer Colin Jost, who, earlier this spring, graduated to red-carpet couple status.
But Davidson, as we all know, has been a lot to handle lately. And combined with Elon Musk's apparent mission to ruin any and all of the tech industry's prurient potential, he has now paved the way for a new type of boy toy: the Art Bro, which officially emerged triumphant on Tuesday when news broke of Ellie Goulding's engagement to one Caspar Jopling, a 26-year-old who hails from the contemporary art department of the auction house Sotheby's.
It's not hard to see the Art Bro's appeal to those in the public eye. An Art Bro is well-connected and wealthy—or at least used to the trappings of wealth—but discreet, thereby less likely to attract headlines and paparazzi than his A-list bro competition. Jopling, for example, is the Eton-educated nephew of the art world powerhouse Jay Jopling, who founded the blue-chip London gallery White Cube and was previously married to the artist and Fifty Shades of Grey director Sam Taylor-Johnson.
And Jennifer Lawrence arguably started the trend earlier this summer, when she (reportedly, anyway) struck up a quiet relationship with Cooke Maroney, a director at New York's Gladstone Gallery, which represents artists like Richard Prince and Ugo Rondinone. Being an unassuming art dealer by day, though, also means attending your fair share of art world parties at night. In Maroney's case, that would be enough, apparently, for celebs like Paris Hilton and Hannah Bronfman to be among some of the just 2,000 or so who follow him on his private Instagram. (Hilton, by the way, is now engaged to Chris Zylka, an actor-artist whom she first met down at Art Basel Miami Beach, which was also an early stomping ground for Goulding and her new fiancé.)
Dating an artist isn't exactly new; let's not forget that Meryl Streep and Bette Midler have at this point been married to a sculptor and a performance artist, respectively, for decades. But a decade after Mary-Kate Olsen began her high-profile two-year relationship with the artist Nate Lowman, dating the behind-the-scenes power players of the art world has been really catching on more and more, especially as of this summer. June brought Cooke Maroney, August brought Caspar Jopling, and in between them, July brought Vito Schnabel together with Amber Heard. Their PDA session at Wimbledon was quite a way to move on from his ex Heidi Klum.
Related: Who Is Caspar Jopling, Ellie Goulding's Mysterious New Fiancé?