Who Is Caspar Jopling, Ellie Goulding's Mysterious New Fiancé?
Meet the 26-year-old Brit now engaged to Goulding, after dating her for a year and a half.
---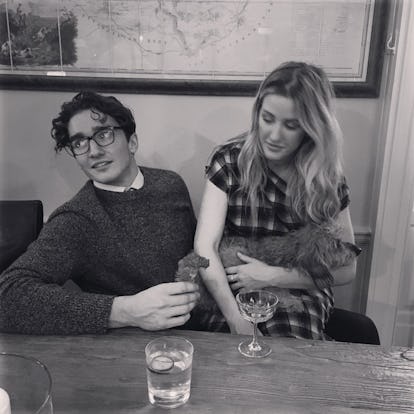 Courtesy of @casparjopling
Something must have been in the air that day when Princess Beatrice brought some of her best buds with her to the desert in Jordan earlier this year. Within the past two weeks, not one but two of the couples who went along for the ride have gotten engaged. Following in the footsteps of their fellow travelers Karlie Kloss and Joshua Kushner, who announced their news via Instagram, after five years of dating, Ellie Goulding and her own partner, Caspar Jopling, who've been dating for just 18 months, have now made their own upcoming nuptials known in the London Times, in an announcement that was about as far away from an Instagram caption as you can get these days.
"Caspar, son of The Hon Nicholas Jopling of Yorkshire and Mrs Jayne Warde-Aldam of Yorkshire," as he is introduced in the paper, is not quite a Kushner—nor does he have the reputation of Goulding's past partners, ranging from Skrillex to, reportedly, Prince Harry—but Jopling has quite a pedigree as the nephew of the art world powerhouse Jay Jopling, the founder of the blue-chip London gallery White Cube and essentially London's answer to Larry Gagosian.
Though he's just 26, Caspar has already followed in his uncle's footsteps; he now works in the contemporary art department of the auction house Sotheby's. Before that, he studied at Eton—where he, like Prince Harry and Prince William before him, was on the rowing team—and earned degrees at both the London Film Academy and Harvard University. And while there are plenty of pictures of Goulding, his (at least currently) public Instagram account is full of art—including Jonathan Horowitz's apocalyptic anti-Trump print.
Like Paris Hilton and Chris Zylka before them, Goulding and Jopling seem to have bonded over their love of art. The two spent time together early on at Art Basel Miami Beach. Jopling's Instagram shows that they've made the requisite East Coast couple trip to Storm King Art Center, the sculpture park just outside New York City, and a few months ago they also teamed up to co-curate an auction for Sotheby's featuring some of their favorite contemporary artists, including George Condo, Andy Warhol, Agnes Martin, and Ed Ruscha. Their apartment in SoHo—they currently split time between New York and London—also features works by the likes of Raymond Pettibon.
Jopling is also a fan of Damien Hirst, whom his uncle in fact befriended back in the '80s, arguably helping launch his career with his involvement in some of the artist's most famous works, like For the Love of God, a cast of an 18th-century skull covered in 8,601 diamonds. And, while we're on the topic of Young British Artists, Sam Taylor-Johnson was married to Jay Jopling from 1997 to 2008, when she was better known as an artist, coming up in the same circles as Hirst and Tracey Emin. These days, though, she's much better known as the director of Fifty Shades of Grey—including, no doubt, to Goulding, who, back in 2015, recorded a song for the film.
Related: The Most Over-the-Top Celebrity Weddings of Summer 2018 (So Far)