Jennifer Lawrence Missed the Golden Globes Parties Thanks To Emma Stone
The most coveted kind of after party is the kind where you stay home, according to Emma Stone.
---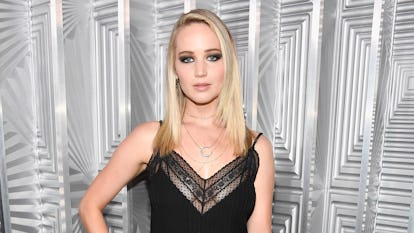 Frazer Harrison/Getty Images
Jennifer Lawrence and Emma Stone are a pair of award winning best friends who have a lot in common—they've both won Oscars, both tend to mishear song lyrics, and they've even shared a stalker—but occasionally, like all best friends, they disagree on where they want to party. Jennifer Lawrence, who was not present at the 2018 Golden Globes, was slated to make an appearance after the ceremony with none other than best friend Emma Stone on her arm, until it was decided that the two award winning actresses had better plans.
According to Emma Stone, the best kind of after party is the kind where you stay home, although Jennifer Lawrence might not find that to be the case. In the post Golden Globe frenzy, Jennifer uploaded a video taken by Stone to her Facebook, which showcased a glam look on the face of the Red Sparrow actress, while she was also wearing cozy loungewear. After being asked "What happened tonight?" by her best friend, Lawrence launched into an explanation of her mismatched look. Turning dramatically to the camera, the actress revealed that her smokey eye was really just one singular eye, with the other half of her face being makeup free. When asked by Stone to hash out the reasons behind her one-eyed glam look, Lawrence replied to explain that Stone had requested her to be her date to the Golden Globes after parties, only to decide that she wanted to have a girls' night in instead.
"Well, you had told me that you wanted me to be your date to the after-parties, so I got us some tickets to some after-parties," she said. "You just wanted to come over to my house so I sent my hair and makeup team home and now this is what I look like." Of course, if anyone could score those coveted after party tickets it would be Jennifer Lawrence, but sometimes staying indoors with your best friend and skipping the party altogether is more fun anyway.
Related: Jennifer Lawrence and Emma Stone Are the Quintessential Hollywood BFFs
Jennifer Lawrence and Emma Stone Have a Lot More in Common Than They Realized: