Jennifer Lawrence Will Play a Death Row Inmate in Luca Guadagnino's Burial Rites
She'll be playing an Icelandic servant on death row in a true crime thriller.
---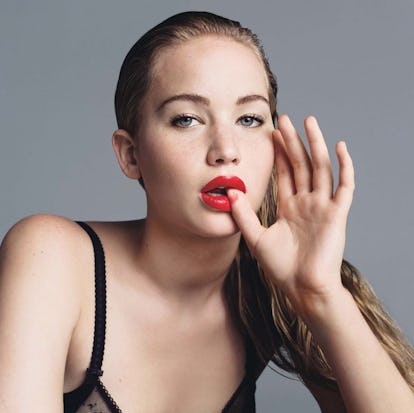 Jennifer Lawrence in "The Brave Ones," W magazine September 2010. Photographer: Inez Van Lamsweerde and Vinoodh Matadin Stylist: Alex White
Luca Guadagnino, currently best known for helming this year's Oscar contender Call Me By Your Name and Golden Globes nominee, is certainly getting a lot of attention right now. In fact, he's just linked up with one of Hollywood's biggest stars. The Italian director has just been attached to Jennifer Lawrence's next film, which she is starring in and producing, called Burial Rites. Guadagnino will be directing Lawrence in the true-crime drama, as Variety reports.
The film is somewhat of a period piece as it's set in 1828 as an Icelandic servant named Agnes Magnusdottir— whom Lawrence will play — is gearing up for a death sentence bestowed upon her by a high court for murder and arson. She allegedly killed her boss as well as another man and set them on fire. She's reliving her memories of these events leading up to her death sentence, as Variety notes.
"Luca is a rare talent," TriStar Pictures president Hannah Minghella said in a statement, according to Variety. "His movies capture an exquisite sense of place inextricably linked to the emotional state of the complex characters he creates. I can't imagine a more thrilling partnership than Luca and Jennifer coming together to bring Agnes' beautiful and tragic story to life."
The film is based on a novel of the same title by author Hannah Kent, who wrote about the real-life event, though with a fictional take. In the novel, the female protagonist Magnusdottir traces her life and the events leading up to her crimes while in conversation with a clergyman named Reverend Toti, according to a New York Times review of Burial Rites.
The proto-feminist role is fitting for Lawrence, who recently talked at length about the recent wave of sexual assault allegations and how Hollywood can finally achieve a place of true equality at length with Oprah. "Social change," she said, offering a potential answer as how to fix gender inequality. "Men need more social awareness. But this comes down to equality, and until all women in every job are paid equally for the same amount of work, how are we ever going to be thought of as equals? As long as there is one group of humans that is overruling another one, there's going to be abuse, [and] why would we be thought of as equals? … My political passion has almost turned into an obsession. I mean, I don't think you ever do feel settled, [but] as soon as you feel settled with your home and your personal life, you're looking at the world and going, 'How in the hell do I fix this? What do we do?'"
Related: Jennifer Lawrence on Doing the Explicit Red Sparrow After the 2014 Nude Photo Hack: "I Felt Like I Was Getting Something Back That Had Been Taken From Me"