Jennifer Lawrence "Didn't Look" at What Her Male Costar Earned for Mother!
"I just knew what I deserved and fought for that."
---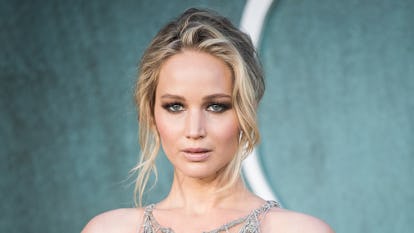 Samir Hussein/WireImage/Getty Images
Jennifer Lawrence has spoken out several times in favor of closing the gender wage gap. Despite her advocacy, however, the actress admitted this week that her strategy for achieving equal pay with her male costars doesn't actually include comparing her earnings to theirs.
In an interview with the BBC while in London for the U.K. premiere of her new film, Mother!, Lawrence said, "there's still a lot of unfairness" in the difference between men's and women's wages. "We are making changes, the gap is very slowly closing," she said. "But there's still work to be done." When asked whether she made sure her pay was equal to (or, perhaps, more than) that of Javier Bardem, her mother! costar, though, Jen said, "I didn't look at what Javier is getting. I just knew what I deserved and fought for that," and joked that if she found out that Javier had in fact earned more than her, "There would be a phone call."
The 27-year-old first spoke out on the issue of equal pay in 2015, when she penned an essay for Lena Dunham's newsletter Lenny after discovering (via the late 2014 Sony Pictures hack) that she and Amy Adams had earned less than their male costars in back-end compensation for American Hustle. "I'm over trying to find the 'adorable' way to state my opinion and still be likable! F*ck that. I don't think I've ever worked for a man in charge who spent time contemplating what angle he should use to have his voice heard. It's just heard," she wrote. "Jeremy Renner, Christian Bale, and Bradley Cooper all fought and succeeded in negotiating powerful deals for themselves. If anything, I'm sure they were commended for being fierce and tactical, while I was busy worrying about coming across as a brat and not getting my fair share."
Other Hollywood actresses have been more upfront about now asking what their male counterparts are making.
"What I do now, when I'm taking on a film, I always ask about the fairness of the pay," Jessica Chastain wrote in an essay for Variety earlier this year. "I ask what they're offering me in comparison to the guy. I don't care about how much I get paid; I'm in an industry where we're overcompensated for the work we do. But I don't want to be on a set where I'm doing the same work as someone else and they're getting five times what I'm getting."
Chastain also added that she had heard Amy Pascal, the former Chairperson at Sony during that hack, said that, "the reason women don't get paid equal to men is they don't ask for more; actresses need to stop being so grateful."
Related: Jennifer Lawrence's New Vogue Cover Is an Optical Illusion