A Recent History of Jennifer Lawrence Saying Things, Including "D–k Is Dangerous"
As a sound bite machine, no one gives better value.
---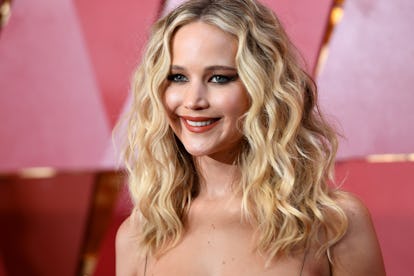 Kevork Djansezian/Getty Images
Jennifer Lawrence, who has long worn the crown of world's most relatable movie star, has been dialing up her uncensored celebrity demeanor in recent weeks. She has been dropping explosive sound bites left and right as she finishes up a press spree for her new film Red Sparrow. The latest? Lawrence opened up about her love life, or lack thereof, telling The Sun "D—k is dangerous."
"I always talk like I want d—k, but the truth is when I look back at my sexual past it was always with boyfriends," said. "I talk like I like it, but I don't really do it. I am mostly also a germophobe. I have made it this far without an STI. D—k is dangerous. If I was at the point where I could get an STI, doctors have already been involved. That is how much of a germophobe I am."
As hard as it is to top that nugget, take a look below at some of the other gems Lawrence has shared with the world this past month alone.
"I'm like, bitch, you's a c–t.'"
"I'm sorry, but in the season before, we see Lala trying so hard to be nice," Lawrence said to Andy Cohen, referring to Lala Kent on Vanderpump Rules. "And then she's like crying to her mom, and then she's like a total bitch. And then she's trying like really, really hard to be nice, and then she comes back this season and she's like, 'Hi, honey. Hi, sweetie.' I'm like, bitch, you's a c**t.'"
"[Harvey Weinstein] is just that horrible ass boil that does not go away."
"He is just that horrible ass boil that does not go away," she told Stephen Colbert on his late-night show. "You pop the ass boil. He's just the worst. Just when is it gonna end? Like, in the middle of the night, I had to come up with a statement in London and I was like, 'It's still not over?! His awfulness is still happening?'"
"Amy said I scared some people."
In the same interview, Lawrence told Colbert, of Amy Schumer's recent wedding, "Amy said I scared some people. One story I definitely can't tell you. I mean, it was just a conversation…Bridget Everett and I were talking about how much we love our dogs and I basically went too far in saying what I would do to make my dog happy. It didn't translate and it went too far. [Takes another drink.] And then I was flirting with Larry David all night, but it was very one-sided. I'm obsessed with Larry David, but he's not obsessed with me. So after the ceremony, Amy comes up and grabs me and she's like, let's go upstairs and talk about life and love and this giant decision that she just made. And we go up to the roof and she's talking about everything, and I just went, 'Amy, every minute that I'm here Larry could be leaving.'"
"I've been down that road, I know what that's like. I don't need to watch [Phantom Thread]."
"I got through about three minutes of it," she told Marc Maron of Phantom Thread on his podcast, as Vanity Fair reported. "I mean, is it just about clothes? Is he kind of like a narcissistic sociopath, and he's an artist, so every girl falls in love with him because he makes her feel bad about herself, and that's the love story? I've been down that road, I know what that's like. I don't need to watch that movie."
"I wasn't, like, in a huge hurry to debunk it!"
When Lawrence was questioned by Cohen on Bravo about the rumor that she was dating Brad Pitt, Lawrence said, "No, I met him once in like 2013, so it was very random. But, I also wasn't, like, in a huge hurry to debunk it!"