Jennifer Lopez Shut Down Internet Trolls Who Claimed She Photoshopped Her Abs
"#WishThereWasPhotoshopForHaters."
---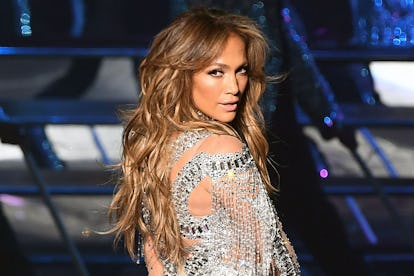 Denise Truscello/Getty Images
"I'm real," Jennifer Lopez announced to the world all the way back in 2001. So why are we still questioning her legitimacy?
The singer and actress recently had to defend herself against internet trolls who dared to challenge her realness. It all began with an innocent mirror selfie that the 47-year-old posted to Instagram on Thursday, in which she wears a cropped Guess sweatshirt and low-slung sweatpants that put her enviably chiseled abs front and center. "Ayyyyy… ?" she captioned the photo. But some of her followers weren't content to let sleeping ab selfies lie. They immediately pounced on a small blemish on Lopez's waist in the picture, commenting that it looked like a Photoshop fail and was therefore evidence that the star had painstakingly edited the abs onto her body. The J.Lo stans came to her defense, however, pointing out that the spot was actually a blemish on Lopez's mirror.
The debate raged on for a few hours — "It is beautyful [sic], but it's only Photoshop," one Instagram user wrote, while another commented, "MAY GOD BLESS YOUR EYES HARD ENOUGH FOR YOU TO see the smudge on the mirror" — before Lopez herself finally stepped in to clear the air and confirm that the controversy did in fact stem from a dirty mirror. "Omg…Just a smudge on the mirror…lol…not photoshop. #lordblessthehaters #gymrat #youshouldtryit #wishtherewasphotoshopforhaters," she commented on the photo, then posted a screenshot of her comment in her Instagram Story for maximum visibility.
Accusing Jennifer Lopez, of all people, of photoshopping abs onto her body is ridiculous: For one, she's been dancing since she was a child and is a known "#gymrat" and is fitness guru Tracy Anderson's favorite client. So there: Don't mess with Jenny from the block.
Related: Jennifer Lopez: Women Get More Confident as They Get Older
What Happens When Jennifer Lopez Remixes "Baby Got Back" by Sir Mix-A-Lot