Jennifer Lopez Used to Think She Was 'Fat' and Was Told to 'Lose a Few Pounds'
"My generation was very much focused on size 0 models."
---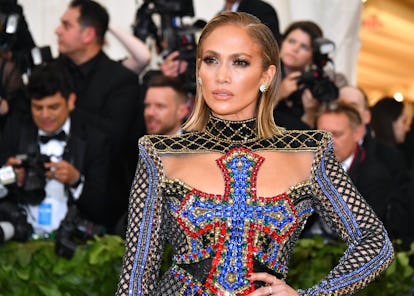 Dia Dipasupil/WireImage
Gorgeous human being Jennifer Lopez is a regular on any lists of people who've aged gracefully — and, even, those who've seemingly aged in reverse — but her confidence is something that she didn't start out with. When Lopez was younger, she went through a period of time where she didn't embrace her natural curves.
"I used to think I was fat, but now I feel beautiful," she told InStyle, as a reminder that confidence is something that everyone can struggle with. Before Lopez became a celebrity ambassador for body positivity, she was struggling to love her own body at a time when curves weren't as culturally celebrated. "My generation was very much focused on size 0 models," she said. "It was just so unattainable for most normal people, including me."
Lopez, who says she never intended to become a preacher of self-love, eventually learned to treat herself and her body with more kindness, with help from her family. "My mom and my grandmother were the ones who drilled into me, 'This is how we are, and this is what's beautiful,'" she said. "My dad loved my mom's body—all the men in our family loved the women's bodies. Being curvy or not being 6 feet tall was never a bad thing; it was actually something that was celebrated. And so, later on, when I brought that in front of the world, I wasn't really trying to send a message. I was just being myself."
Not everyone accepted it, as Lopez also shared, "I got a lot of flak for it from people in the industry." "They'd say, 'You should lose a few pounds,' or 'You should do this or do that'," she said. "It finally got to the point that I was like, 'This is who I am. I'm shaped like this.' Everybody I grew up with looked like that, and they were all beautiful to me. I didn't see anything wrong with it. I still don't!"
As for how Lopez stays positive these days, "I'm convinced that working out is part of what makes me so happy," she said. "I really believe that when you take care of yourself and work to stay healthy, you're better able to take care of those you love."