Jennifer Lopez is Wearing Lots of Versace at a Versace Hotel to the Delight of Donatella Versace
Jennifer Lopez wears two variations on the Versace theme in Dubai.
---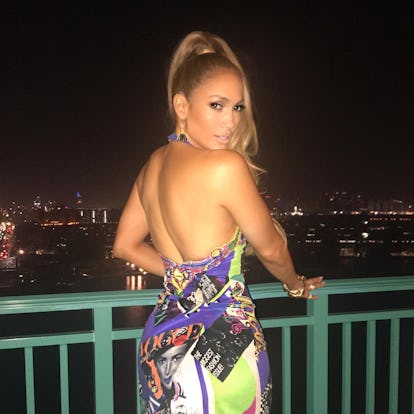 @jlo
Jennifer Lopez is wearing Versace in Dubai. That's to say, she's wearing Versace in Dubai existentially, not incidentally; of the actor and musician's six most recent Instagrams, five mention Dubai in the caption, and of those, four depict her wearing Versace. She's also staying at a Versace hotel. Jennifer Lopez is in Dubai, she is wearing Versace, she is living the Versace lifestyle, and those things, it seems, all pair well.
Lopez touched down in the United Arab Emirates' cultural hub earlier this week and almost immediately slipped into a floor-length Versace halter dress printed with Vogue magazine covers, a look from the brand's Spring 2018 show honoring their late founder Gianni Versace. She used a corridor of the year-old hotel Palazzo Versace Dubai as her own personal runway, pairing the look with a high ponytail and black sandals and pouting for the camera. (Or iPhone, as the case may be.)
The following night, she performed at the Dubai Airshow Gala Dinner, so, naturally, she donned another Versace look for the occasion. This time, it was a crop top-and-leggings set with Versace's trademark baroque print scrawled all over, paired with a silk jacket over the top. She accessorized with multiple glimmering medallions; her backup dancers coordinated in black trousers and gold-sequined bomber jackets unzipped to show a flash of chest. Donatella herself reposted the look from Lopez's Instagram: "My friend Jennifer looking fabulous and fierce! Love you @jlo !" she wrote. (Lopez captioned her own version of the image, "Right!!")
Of course, it's far from the first time Lopez has worn Versace—and, in fact, one of her earliest outings was formative for both Jennifer Lopez, the artist, and Donatella Versace, the designer, who had taken over the label with her brother's murder in 1997. In 2000, Lopez wore a green Versace gown was so instantly iconic, it has its own Wikipedia page—which reports that, while several copies of The Dress have appeared in various fashion exhibitions, Lopez still owns the original. J.Lo and Donatella attended the 2015 Metropolitan Museum of Art Costume Institute Gala for "China: Through the Looking Glass" together—even holding hands on the red carpet—and Donatella designed costumes for J.Lo's Las Vegas residency, "All I Have."
Seeing as it's all J.Lo's fault that former baseball player Alex Rodriguez is dressing better than ever, perhaps he, like Zayn Malik, is next on Donatella's list.
Related: Super Bowl 2017: Donatella Versace Was the Real Winner of the Night
Jennifer Lopez has never wanted to blend in: