Jeremy Scott's Art Basel Party Out-Miami'ed Miami
The designer threw a party at what was once a Valhalla for Florida retirees.
---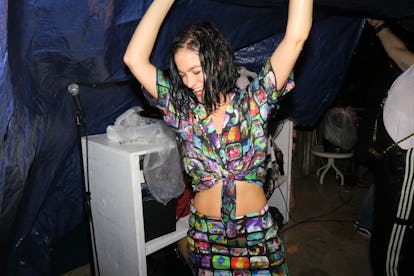 Nothing captures the duality of Miami Beach quite like its hotel pools. During the day they're the scene of sunscreen and spandex-assisted debauchery, but at night they turn into the site of chic parties where guests swap out their flip flops for high heels and sarongs for cocktail dresses. The distortion is particularly notable during Art Basel Miami Beach.
On Wednesday, the vibe at Jeremy Scott's party at the Hall – partially informed by his collaboration with the Brazilian shoe brand Melissa – reminded guests they were in fact gathered at a pool patio in a South Florida resort town.
"The shoe I designed for Melissa looks like an inflatable pool toy high heel. So we made giant ones that are actual inflatable heels," Scott said. "You can't wear those. Obviously."
Indeed, the neon inflatable heels were stationed above the DJ booth, along with giant party balloons spelling out the designer's name. Obviously. It wouldn't be Art Basel without some degree of self-promotion.
Meanwhile, the servers, decked out in Hawaiian shirts, passed around dishes from a hodgepodge of Subtropical cuisines – Hawaiian pork, Florida snapper, Cuban yuca fries and Jamaican jerk wings.
The venue, too, was fitting. The hotel, a sprawling 1940's Art Deco fortress along Collins Avenue, was once a hub of retiree life in the '70s and '80 when it was known as Haddon Hall. Joie De Vivre hotels refurbished it earlier this year and rechristened with a snappier name, though this week it's again something of a mouthful – 'the Surf Lodge at the Hall,' as it's operating as a pop-up of the Montauk staple.
What was once Valhalla for bubbes in swim caps is, for a week at least, a hot spot for the younger-skewing of fashion parties – Out of Order magazine threw a party here on Tuesday. Scott wouldn't have it any other way.
"I love Miami," he gushed. "It's fun. It's seedy. It's still very raw, and I love that there's a mix of energy with it. It's not all up to snuff and perfect. It's still weird sex shops next to tourist attractions next to fancy, upscale boutiques." The guest list included an equal mix of people who might spend the next day hitting up each of those destinations.
The Misshapes' Geordon Nicol and Leigh Lezark stayed close to Lara Estefan, a sort of local analogue to Lezark in her former role as a the queen of Miami hipster nightlife (she is now the daughter in law of that more famous Estefan). Paper Magazine's Mickey Boardman was draped in a almost caftan-like sequined top emblazoned, of course, with the words "Mr. Mickey" – see above, personal branding. Rose McGowan showed up with a shocking new Sinéad O'Connor-style buzzcut and Kenny Scharf mingled with young hipster types, including Mark "The Cobrasnake" Hunter while leggy chanteuse Nomi Ruiz, of Hercules and Love Affair fame, made a late entrance.
Elsewhere, Paris Hilton and Peter Brant II held court on a bamboo patio sofa in a corner, as Dorothy and Sophia might have in the lanai in "The Golden Girls."
The only thing missing from the party? The pool itself, which was hidden underneath a platform.
Photos: Jeremy Scott's Art Basel Party Out-Miami'ed Miami
Jeremy Scott. Photo by BFA.
Barron Hilton, Gaia Matisse, Peter Brandt, Alex Assouline, and Andrew Warren. Photo by BFA.
Leigh Lezark. Photo by World Red Eye.
Sasha Benz and Bambi. Photo by BFA.
Mickey Boardman. Photo by BFA.
Jordan Daly and Jenne Lombardo. Photo by BFA.
Brynn Wallner. Photo by BFA.
Jeremy Scott and Rose McGowan. Photo by World Red Eye.
Mia Moretti. Photo by World Red Eye.