Singer Jess Glynne Reveals the Secret to Her Signature Red Curls
It's easier than you think.
---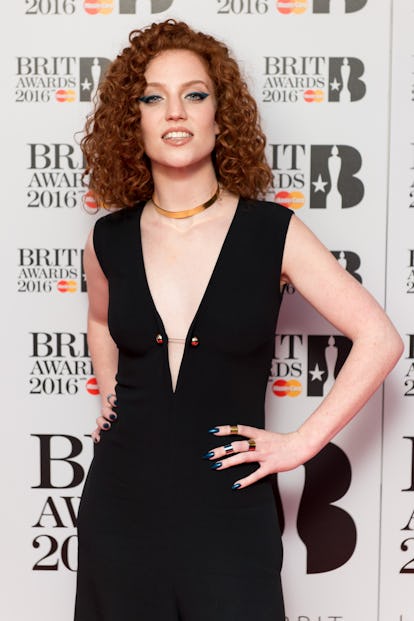 Ian Gavan
At just 28, Jess Glynne has already made quite an impact on the music industry. After a star-making feature on Clean Bandit's hit song "Rather Be" back in 2014, the English singer-songwriter released her debut studio album, I Cry When I Laugh, the following year, which debuted at number one on the UK Albums Chart. This year, she became the first British female solo artist to have seven number one singles on the UK Singles Chart, thanks to her hit "I'll Be There," off her new album, Always In Between, which was released on Friday. And from the looks of it, that's just the start to a major run. Just last week, Glynne released her latest single, "Thursday," which was co-written by Ed Sheeran, and will soon headline her own North American tour. All of which is to say, get used to seeing Glynne in the coming year—not that you'd be able to miss her anyways, thanks to her signature head of glorious red curls. Here, the singer breaks down her signature look and her absolute beauty essentials.
What is the secret behind maintaining your hair?
Good products! I use Pureology shampoo and conditioner, plus their after care products.
What is your go-to haircare routine?
Wash, products, and dry with a diffuser.
What is the worst haircut you've ever had?
When I was about 16, my hairdresser cut my hair in to a short bob and I didn't wear it curly once cause I hated it so much.
Favorite beauty look to wear onstage?
I can't possibly say one look; I love changing it up depending on how I feel or what I'm wearing.
What are your favorite go-to beauty products?
Eyko mascara, Nars vanilla concealer, Sisley lip stuff, and either Burts Bees or Paw Paw lip balm.
What is your nightly bedtime beauty routine?
Cleanse my face and either do a treatment and face mask, or just moisturizer.
Who is your beauty icon?
Naomi Campbell. I just think she is stunning.
What is the best bit of beauty advice you've ever received?
My mum told me to never sleep with my makeup on. I think that rule wins.
What is the best beauty trick you have picked up on set?
Contouring. I think it's genius if it's done right.
What is your favorite shade of lipstick?
Nude is my favorite and my go-to, but it has to be the right shade. I like pinky tones.
What is one beauty item you recommend everyone buy?
A decent face mask.
What is your go-to beauty look for a night out?
I love a smoky eye. I don't wear a ton of make up so a strong eye and a good lip is always going to win for me.
What is the biggest skincare rule that you abide by?
Drink lots of water and keep hydrated.
What is one treatment you are afraid to try?
Micro-needling looks scary!
What is your biggest beauty splurge?
Everything I buy for my skin is a splurge. I think it's super important to look after your skin. It's worth spending money on if you can.
What is your favorite form of self-care?
Eating well, exercise, and keeping hydrated.