Jessica Chastain Is in Negotiation to Join It Sequel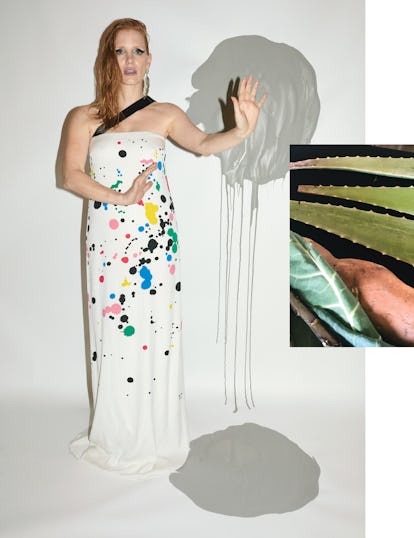 Photographs by Juergen Teller; Styled by Edward Enninful
There is nothing Hollywood loves more than a sequel and the latest one on deck is a sequel to last year's smash hit It. Now, it seems like Jessica Chastain will be part of the next installment as the redheaded chameleon is currently in talks to join the cast, according to Variety. While the script for the sequel is still being written, one thing is for sure: director Andy Muschietti wants Chastain to star in it, alongside Bill Skarsgard. Chastain is reportedly in negotiation to take on the role, for which production would begin this summer.
As long as there has been the thought of the It sequel, there's been talk of Chastain's involvement. Granted, much of it, at first, was from fans hoping she'd join the cast. After learning the next film would pick back up 27 years later as the Losers' Club members were faced with once again warding off Pennywise, many It viewers suggested that Chastain would be a natural fit to play an older version of Sophia Lillis' Beverly, as Vanity Fair noted at the time. The director, who Chastain has worked with before on 2013's horror thriller Mama, also suggested Chastain would make an excellent grown-up Beverly, telling Variety, "Jessi is an amazing actress and very good friend and I would love her to play Beverly. She loves the movie and it feels like the planets are aligned in that sense, but we still have to make that happen."
Even Chastain herself has expressed that she'd love to do it, as she told ScreenRant last year, "Well, I love Andy and [producer] Barbara [Muschietti]. They're my friends. They're like my family. Anything that they're doing I want to be a part of, so I hope we can make it happen." Even Lillis has signed on to have the fearless actress play her as, when asked who her first choice would be by Vanity Fair, she said, "Jessica Chastain!"
Chastain has been extending her résumé in recent months to break out of the dramas she's become known for, as her former coworker turned best friend Octavia Spencer recently revealed that the two are set to star in a holiday comedy.
Related: Meet New Scream Queen Sophia Lillis, 15-Year-Old Star of Stephen King's It
Jessica Chastain's Style Evolution As the Ultimate Red Carpet Chameleon
Humble beginnings: Chastain is the ultimate early aughts girl in tattered boot-cut jeans and stripped pastel tee.

Getty Images
Attending a fashion week party in LA, Chastain looked cool and casual in a halter-neck black dress.

Getty Images
Once again, Chastain keeps it simple at classic at the opening of Othello at B-Bar in NYC wearing a little black dress.

Getty Images
Chastain at the Dior Haute Couture Spring 2009 show, this time in a ruffled strapless black gown.

Getty Images
The actress arrived at the InStyle magazine Summer Soiree party, beginning to experiment with color in a printed dress.

Getty Images
At the Somewhere premiere in Los Angeles, Chastain's sartorial verve appears in this adventurous floral frock.

Getty Images
Arriving at the GQ 'Men of the Year' party, Chastain chose a flirty red polka-dot cocktail dress and smoky eye makeup.

Getty Images
Shown here in a structured, ivory frock for the Decades Denim launch party. When in doubt: belt it.

Getty Images
In a flamingo-feathered pink cocktail dress for a Golden Globes party, with an emphasis on the statement pump.

Getty Images
At a W Magazine party for the Golden Globes at a light blue dress and black strappy heel.

Getty Images
For the I Am Number Four premiere in Los Angeles in a gathered, gold dress and matching heel.

Getty Images
Jessica Chastain in Zac Posen at the Tree of Life premiere at the 64th annual Cannes Film Festival in Cannes, France.

Getty Images
A lady-like figure in a shocking pink frock and black pump for a Pre-Oscar party.

Getty Images
At a Vanity Fair launch party in a dramatic Alexander McQueen peplum top and matching skirt.

Getty Images
A gilded McQueen gown for the 84th Academy Awards, as a loose up-do completes the look.

Getty Images
Arriving at the Calvin Klein Fall 2013 show in a chic coat and dress combo.

Getty Images
A vision in glittering Givenchy Haute Couture at the premiere of All is Lost.

Getty Images
Arriving at the 70th Annual Golden Globes in gorgeous celadon gown with plunging neckline.

Getty Images
Chastain wore Armani Privé to the 85th annual Academy Awards in February 2013.

Getty Images
The pockets on Chastain's black velvet Alexander McQueen dress and the hue of her multi-colored pumps were just fun enough for a daytime photo call.

Getty Images
Statuesque beauty in a custom Prada gown for the Interstellar premiere red carpet.

Getty Images
Recalling Félix Vallotton's 1924 painting Le Retour de la Mer in a beguiling Atelier Versace gown.

Getty Images
Chastain poses on the red carpet for the European premiere of the film Interstellar in London wearing a dusty rose gown by Saint Laurent.

Getty Images
Prim and pretty in an embellished Oscar de la Renta dress and gilded heel at the 40th Deauville American Film Festival.

Getty Images
Chastain arrives at 'China: Through The Looking Glass' in golden Givenchy Couture gown for ultimate movie star glamour.

Getty Images
In an Oscar de la Renta printed dress for the Jameson Empire Awards in London.

Getty Images
Jessica Chastain in Givenchy at the Toronto International Film Festival premiere of The Martian in Toronto, Canada, September 2015.

Getty Images
The lady is a vamp! In a dramatic, plunging gown by Versace at a Golden Globes party.

Getty Images
Jessica Chastain in Elie Saab at the opening of the Metropolitan Opera's 2015-2016 season in New York, New York, September 2015.

Getty Images
Jessica Chastain in Givenchy at the 87th annual Academy Awards in Hollywood, California, February 2015.

Getty Images