Meet New Scream Queen Sophia Lillis, 15-Year-Old Star of Stephen King's It
The teenage newcomer steals the movie as tough-but-damaged Beverly Marsh. Watch out, Millie Bobby Brown.
---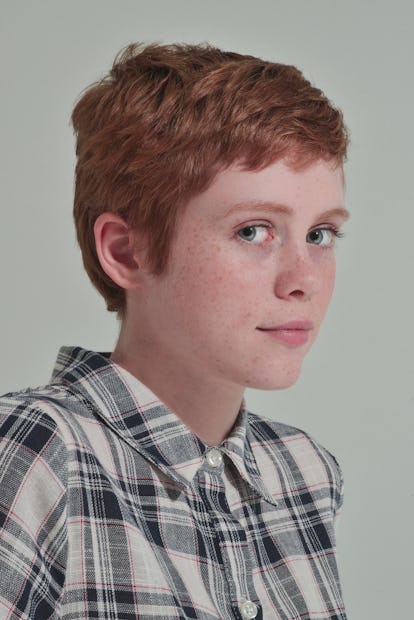 Alex Hodor-Lee
Perhaps not since Tim Curry struck fear into the hearts of so many '90s kids with his turn as Pennywise, the clown in the original television adaptation of Stephen King's 1986 novel It, have clowns had such a tough run. There are the scary clowns in American Horror Story: Cult. There was last year's so-called "clown panic," a series of hoaxes in which children and teens reported spotting murderous clowns roaming the woods. One of the newest iOS updates featured an unintentionally terrifying clown emoji. And now, there's the new big-screen reboot of It, which clowns across the globe are blaming for canceled birthday parties.
Of course, It—the shapeshifting horror in the sewers of Derry, Maine, in It, out next week—also just considers children a yummy delicacy. So when a young boy goes missing, his older brother recruits a group of middle-school-aged friends—the self-professed "Losers"—to track down the monster. The Losers head right into the teeth of It, pursued by their own worst nightmares—but unlike the rest of her fellow Losers, Beverly Marsh, played by 15-year-old newcomer Sophia Lillis, is not afraid. After all, there is little that could be worse for Beverly than beyond the walls of her own home, where she suffers abuse—sexually, it's implied—from her father.
"She's a girl who has to live with her fear," Lillis explained on a recent afternoon in New York. "Everything is about each other's fear—and mine is my own house."
Like her character, Lillis was unflappable on set. When she first met Bill Skarsgard, the 27-year-old son of Stellan and brother of Alexander who plays the nightmarish Pennywise, the preferred incarnation of It, she laughed. "He was half in his clown costume," she said, "and he was just saying, 'Oh, hey, how are you doing, what's your name?'"
In two scenes in the film, Pennywise lunges for Beverly, lifting her bodily by the throat. "He always talked to me, like, 'How's your school? High school, huh?'" Lillis recalled of their scenes together. "His hand is on my neck the whole time," she added.
Though she's bullied at school, Beverly is the consummate cool girl, smoking in the bathroom and drawing the attention of the boys and the ire of the girls. She's the sole girl in the Losers; in one scene, she strips down to her underwear to join them for a swim in the quarry while all the boys gawk. "A lot of people ask, 'Oh, you were the only girl, what was that like?'" Lillis said, not without a hint of disdain for that line of questioning. "To be honest, it wasn't that bad."
By contrast, she grew close with her fellow Losers, played by Wyatt Olef, Jaeden Lieberher, Chosen Jacobs, Jeremy Ray Taylor, Jack Dylan Grazer, and Finn Wolfhard. Even after they had wrapped for the day, the Losers remained inseparable. They had sleepovers—usually at Olef's house, which was "a whole thing," Lillis said. And, "because It was based on the '80s," she added, "we played less on our phones—more riding bikes." Lillis also brought along a Leica Monochrom her stepfather had loaned her and shot portraits of her castmates; her Instagram feed is filled with her preternaturally accomplished photos.
When the young actors arrived on set, they received a package labeled "'80s Stuff," which included music, films, and a guide to slang from the era. But Lillis—like Wolfhard, who stars in the '80s-set hit Netflix series Stranger Things with Winona Ryder and Millie Bobby Brown—was already well-versed in the era. She grew up watching a lot of old and foreign movies, thanks to her stepfather. He also cast her in her first-ever production, an adaptation of Dante's Inferno he wrote and directed for a film class. At his recommendation, she began taking classes at the Lee Strasberg Theatre and Film Institute in New York; her first professional job, in a student film, was as a young girl abandoned by her mother and forced to live with her funeral-director father.
Since then, Lillis has often been cast as the character who "always has the worst childhood experience. I don't know what that says about me, personally," she said, wryly. (It might just be that troubled kids are the more interesting parts.) Next up, she will appear as Amy Adams's younger self in the HBO miniseries adaptation of the Gillian Flynn novel Sharp Objects. She and Adams play the daughter of a woman with Munchausen Syndrome by proxy who kills their sister. The project presents another chance for Lillis to summon a youthful steel onscreen.
"I don't know if I really am personally this tough girl. Hopefully," she said, laughing. "If I was anything like Beverly, I would be happy about myself."
See Millie Bobby Brown do her best karaoke impression of Bruno Mars's "Just the Way You Are":