Jessica Chastain Made an Awkward Emoji Mistake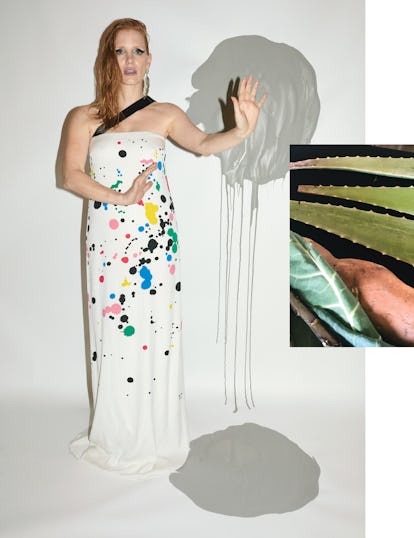 Photographs by Juergen Teller; Styled by Edward Enninful
Jessica Chastain has just become the latest celebrity to wish she had triple-checked her last tweet before she published. The Molly's Game star didn't send something offensive or even tone-deaf into the Twitterverse earlier this week (like so many actors before her)—she simply was unaware that one device's shocked emoji is another device's… not-quite-safe-for-work emoji.
Chastain tweeted out her thoughts on the award-season darling Lady Bird on Wednesday, writing, "Basically #GretaGerwig made a film about my adolescence in Sacramento & ditching it for college in NY. The first time I watched @LadyBirdMovie I was so struck by our parallel lives that I had to watch it immediately again. Oh also, I lost my virginity to Dave Matthew's CRASH." She punctuated her musings on the film and the parallels to her first time with a shocked emoji, wide-eyed and adorably surprised. At least, that's what it looked like on a Samsung device, according to New York Magazine. As Chastain discovered, when her friend sent her an article referencing the tweet on iOS, the emoji looks vaguely lascivious. "The emoji is completely different! Is that what all of you see? It's drooling. Now I look like a pervert…" Chastain bemoaned on Twitter after posting side-by-sides of the emoji she wanted to be associated with her thoughts on losing her virginity versus what a good portion of the web saw instead.
The mix-up might be a little awkward, but Chastain can take heart in the fact that while most celeb tweet blunders end in retractions and public apologies, she can just use hers as an amusing anecdote as she continues to school late-night hosts in just how underserved women are by the kinds of roles being written for actresses today and keeps helping her costars get the salary they deserve.
Related: Jessica Chastain Reveals How Kim Kardashian Gave Her On-Screen Confidence For Molly's Game