John Krasinski Has Seen The Devil Wears Prada More Than 70 Times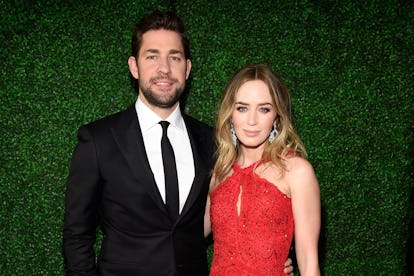 Kevin Mazur/WireImage/Getty Images
John Krasinski and Emily Blunt are one of the few true power couples left standing in Hollywood. Not only have they been married for eight years and are parents to two daughters, but they're also coworkers. And when they're not talking about their film A Quiet Place, they're talking about Krasinski's affection for one of Blunt's most iconic movies, The Devil Wears Prada.
The film features Blunt in best known role amongst the general public (for now anyway): Emily, fictional editrix Miranda Priestly's first assistant. And even though the film came out three years before Blunt and Krasinski became a couple, it seems like Krasinski's affection for it is independent of his wife. In a recent appearance on The Graham Norton Show, the actor/director admitted he had seen the movie "give or take" 72 times. "It's just one of those movies that whenever you're going through the channels you just stop and you look."
It's easy to call yourself a fan and drop a big view count, but Blunt followed up the number with a story that proves her husband is not a casual viewer. She explained that in the film, "There's a sort of montage sequence where Annie Hathaway's got numerous fabulous outfits that they go through. And John, one day I came home, and he was watching it. And he was watching the montage bit and he goes 'and that's my favorite outfit.'" Krasinski, of course, had to throw in a dig at his wife for revealing such a private at-home viewing experience. "Well, I couldn't get Annie, so…" he added before trailing off and eliciting a huge laugh from the crowd.
As it turns out, Blunt recently revealed that she wasn't that familiar with the American version of The Office when she met Krasinski. The British actress preferred the British original, though when the pair first met and sparks flew she did decide to go back and watch Krasinski's version just to have a better idea of who he was.
Unfortunately for Krasinski and other Prada fans, Blunt has recently gone sour on the idea of ever making a sequel. Fortunately for Blunt though, Krasinski says he's totally up for an Office reunion at some point.
Related: Emily Blunt Call The Devil Wears Prada "The Most Important Thing That Has Happened To Me."
The Prada-Filled Style Evolution of Emily Blunt
One of her first major red carpet appearances, Blunt opted for a lace-trimmed pink frock at The Devil Wears Prada premiere in June 2006.

Getty
Blunt opted for sheer, body-hugging white at the 2007 Golden Globes.

Getty
The redhead opted for a one-shoulderd jade gown at the 2008 BAFTAs.

Getty
A nude moment for the actress in 2009 at the Elle Women in Hollywood Tribute.

Getty
Embracing metallics at the SAG Awards in 2009.

Getty
Lovely in lavender at the 2010 Emmy Awards.

Getty
At the 2010 Critics Choice Awards, Blunt opted for a short, armor-like dress.

Getty
Blunt attended the 67th Annual Golden Globes Awards in a romantic confection of a dress.

Getty
Embracing her love for bold hues, Blunt stunned in hot pink at the 2011 Kennedy Center Honors.

Getty
Blunt opted for a dramatic, black and grey look at the 2011 Emmy Awards.

Getty
At the 2007 BAFTAs, Blunt cinched a tiered, black beaded gown with a bright turquoise sash.

Getty
All suited up at the 2011 premiere of Gnomeo And Juliet.

Getty
Blunt stepped up her fashion game once again at the 2011 Critics Choice Awards.

Getty
At the 2011 premiere of The Adjustment Bureau, Blunt stepped out in a blooming knee-length frock.

Getty
Streamlined in a stunning tangerine gown at the Harper's Bazaar Woman of the Year Awards.

Getty
A golden goddess in Michael Kors Collection at the 2013 Golden Globes.

Getty
Blunt went for tulle LBD at a 2013 benefit gala in NYC.

Getty
A fashion risk–the formal crop-top–that paid off during the 2014 Dubai International Film Festival.

Getty
A rose-covered Dolce & Gabbana moment at the 2014 premiere of Into The Woods.

Getty
Chic in simple Calvin Klein at the 2015 Cannes Film Festival.

Getty
A playful daytime look at the Cannes Film Festival.

Getty
Blunt donned a white, grecian Michael Kors Collection number at the 2015 Golden Globes.

Getty
Blunt matched her sweet strapless dress with neon shoes at the 2015 Toronto International Film Festival.

Getty
Stunning in crimson red at the 2015 Critics Choice Awards.

Getty
Blunt dressed in Prada, of course, at the 2015 MET Gala.

Getty
Another Prada moment for the actress at the 2015 premiere of Sicario.

Getty
A truly show-stopping fashion moment in Alexander McQueen at the premiere of The Girl on The Train in London.

Getty
Blunt attended the 2016 Academy Awards pregnant and wearing Prada.

Getty
Still pregnant and glowing, in Michael Kors, at the 2016 Met Gala.

Getty
Another red carpet, another risk: this time in intricate, nude-colored Roberto Cavalli.

Getty