John Mayer, Beauty Vlogger, Tests Out A Giant Chanel Compact Full of Cosmetics
Taking care to thank the brand, the musician posted an unboxing series complete with swatch tests on his guitar.
---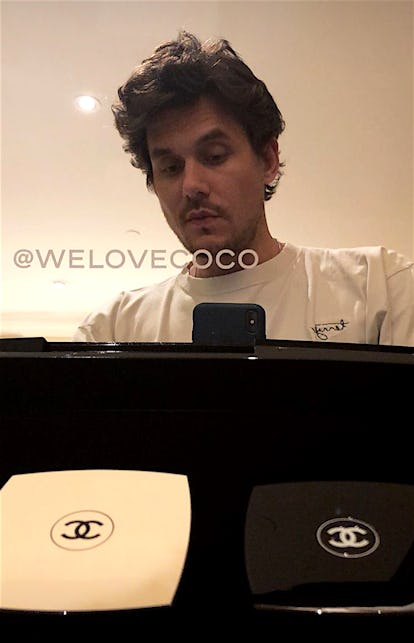 Courtesy of @johnmayer
Since 2016, in between nonstop touring, John Mayer has made a point to set aside time for his foray into beauty vlogging, a pursuit he first delved into on Snapchat before shifting to his current platform of choice, Instagram Stories. He's also lately opted for more simple techniques rather than showing off his favorite $600 products—he most recently credited his smooth skin to the simple fact that he doesn't love anyone. As of 3:00 a.m. in Los Angeles this morning, though, he's now getting back into the luxury beauty wares.
We know this because in the very early hours of this Tuesday, Mayer proved his burgeoning beauty vlogger cred in two ways: by being legit enough for Chanel to send him one of its giant new We Love Coco sets gratis, and for letting his three million followers in on the experience of receiving Chanel swag through a masterful unboxing series. It all started off with a photo of the package, which also featured a glimpse at his ripped jeans and neon yellow and pink Nikes, and the caption "Please believe it." Following beauty protocol of documenting each and every step of the reveal, from there, Mayer posted a photo of the outside of the compact with the caption "I'm intrigued," and then a video of him slowly opening it, unveiling 16 various We Love Coco lip products and yet another compact, at which point he let out a hearty burst of laughter and said, "Okay, well, you know what I see when I look at that? Guitar colors. Right on. Thank you Chanel." (He also took care to flash the camera up to the compact's mirror to offer a glimpse at himself.)
The last step was a look at the package's second layer, featuring "real brushes" and Mayer's enthusiastic caption "HARD NOT TO GIVE IT ANOTHER TRY." Though he ultimately hinted at his disappointment with his haul—"THE SEQUEL IS NEVER AS GOOD"—it evidently satisfied Mayer enough to take a selfie in the mirror featuring the "We Love Coco" handle. While only his mussed-up hair appeared to top off his famously smooth visage, rather than any sign of the Chanel products, he did give them a test run on his white electric guitar—and dutifully captured the end result in his final unboxing shot.
Even though he @-ed them in his stories, in the five hours since, Mayer's journey has yet to be featured on the @welovecoco Instagram account, which reposts photos of its "community of beauty enthusiasts and insiders" who love and tag their products products. (To be fair, his selfie wasn't exactly high res enough to meet Chanel standards, though his snapshot of six lip and cheek blush swatches on his electric guitar could eventually make the cut.)
Still, the brand has already expressed approval of Mayer's own brand when it comes to beauty; the delivery likely stemmed from an Instagram Stories series which Mayer now has saved to his profile—a smoky eye tutorial, in response to the many comments he said he's gotten from people asking to do so. After explaining that he started buying Chanel makeup because he's "doing some color study on some things" and that he threw away the instruction manual, he then proceeded to show his own way of applying the shades, providing narration like: "I know what you're thinking: Alright John, you've impressed me a little bit, I now know you're taking it seriously—hit me with that second color," and "remember that your eyeball is round."
No wonder Chanel is investing in Mayer; already, he's proved himself capable of upping his expertise within a week. His latest batch of vlogs lacked the ultra-zoomed, not so beauty-vlogger-like selfies he featured in his tutorial—though they're certainly delightful enough that their comeback would be welcome. Get a glimpse at how much he's changed tack since then below.
Related: John Mayer Unveils the Secret to His Super-Smooth Skin: "I Don't Love Anybody"y