Watch Judi Dench Learn to Rap With Grime MC Lethal Bizzle
The Denchissance continues.
---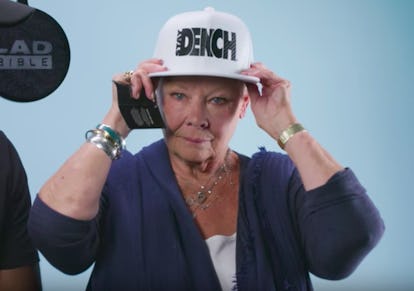 LADBible
There are few voices more elegant than the one belonging to Dame Judi Dench. The legendary actress doesn't only have a way with words, she knows how to pronounce them better than almost anyone else. As it turns out, her voice also sounds great when paired with grime music. The cool grandmother took a lesson in rapping from grime MC Lethal Bizzle and the results were impressive.
The video, done by British site LADbible, begins with Dench receiving a present from Lethal Bizzle. "Oh I say! Look at this – can I wear it?," she says, pulling out a white snapback emblazoned with the words "Stay Dench." "This is an excellent size."
Indeed, Dench proceeds to wear the hat for her two-track run which consists of Lethal Bizzle's 2017 track "Celebrate" from his You'll Never Make a Million from Grime EP and his 2004 classic "Pow!" "No pressure," Dench says before memorizing the lyrics.
Like all good students who ask questions (and a classically trained actress), Dench tries to break down the meaning of the lines. "What does it mean?" she asks, in response to the line, "Anywhere I go gang rollin?'" a valid question. "That means anywhere I go my friends are coming with me," Lethal Bizzle replies.
When Bizzle cues the DJ up, Dench says shepishly, "I'll try," as though she isn't about to completely nail the song. Sure enough, Dench hits the lines "I don't need any occasion to celebrate." She also plays a perfect backup to Bizzle's "Pow."
Dench's rapping isn't her only hidden talent. Just earlier this week, while promoting her new film Victoria and Abdul at TIFF — which certainly isn't her first film playing a queen — it was revealed that Dench also happens to be an expert with a mini fidget spinner, which she keeps on hand at all times, apparently. Impressively, she can spin it on the tip of her finger. At this point though we should all stop being surprised by anything Judi Dench does, especially when her next role involves rapping.
Victoria and Abdul, which co-stars Ali Fazal who plays the real-life servant Abdul Karim of Queen Victoria, opens September 22.
Related: Dame Judi Dench Is a Master of the Mini Fidget Spinner
Drake's "Hotline Bling" Gets Reimagined by 13 Celebrities: