Julia Roberts Is Carrying the Weight of the Opioid Crisis in the Trailer for Ben Is Back
The trailer for "Ben Is Back" is here.
---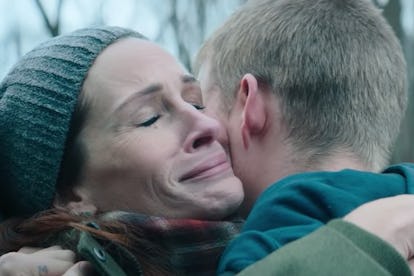 YouTube
Julia Roberts's career is officially back in full swing this year. Not only does the actress have a new television show, Amazon's Homecoming, she is also poised to be in the running for an Oscar for her latest film, Ben Is Back. The first trailer for the film was released today.
In the clip, Roberts confronts her son's addiction to opioids. The movie takes place during the course of 24 hours, when her son reappears at her home for Christmas, fresh out of a sober living place. His arrival isn't welcomed by everyone else in their family, though, and Roberts is put in the position of defending him before everything unravels. Her son, played by Lucas Hedges—Lady Bird and Manchester by the Sea alumnus and the son of Ben Is Back director Peter Hedges—ends up having his mother chase him across town, desperate to track him down. "Just tell me, son, where you want me to bury you," she says to him at one point. Ben Is Back also features Courtney B. Vance and Kathryn Newton.
Roberts opened up about the gravity of the film, telling Vanity Fair, "The opioid-addiction crisis has been in our family for such a long time that we've sort of become immune to it…We have so many other things to be worried about, and I just felt like this story took that idea from being, 'Oh, another article in the newspaper about statistics and big pharmacy companies and what they're doing and how they're destroying the fabric of America,' to meeting this family and seeing what's happening with them. He's kind of put us in this 24-hour period where the real time of choices and panic and fear and everything I think becomes really critical and interesting."
She also broke down how challenging the issue is to navigate as a parent, as she had to do in her role. "I really looked at it like everybody in this movie is making all the right decisions and all the wrong decisions all the time," she said. "Because what's right one hour is the wrong decision four hours later to make. To push or to pull or to embrace or to just fall apart, it's such a little tricky labyrinth to go through."
See the full trailer, here: