Kathryn Newton Talks Big Little Lies Season 2 Ahead of Her Very First Couture Fashion Show
And explains why she cried when she first saw Rihanna.
---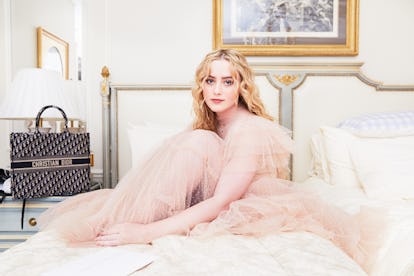 AMBRA VERNUCCIO
The first designer handbag the actress Kathryn Newton owned as a kid was a small pink Dior monogrammed clutch embellished with rhinestones. "I used to put my rock collection inside," she recalled with a laugh. Of course, since then, the Big Little Lies star has amassed quite the collection of vintage Dior and other designer clothing—and she brought just a small portion of it, including Courrèges patent-leather booties, Dior miniskirts, and the aforementioned handbag, with her to Paris for her very first Couture Week experience.
Inside the Four Seasons in Paris, the starlet was getting her hair styled in loose, mermaid-esque waves by the hairstylist Anna Cofone, while her mother and best friend stood by. "I wanted it to look fun and happy, like something you could do at home," she said. As the makeup artist Aurelie Payen applied a sheer brown eye shadow, plenty of mascara, and a natural lip, Newton was already busy plotting the beauty look she was eager to try post-show for a night out: a matte white eyeliner with a bright pink lip.
That was all fodder for today's ensemble; this is couture, after all, where beautiful clothing reigns above all. For Newton's first ever couture show, Dior invited her to come to the atelier for a custom-fitted piece. She had tried on a khaki suit and many, many dresses before eventually deciding on a blush-hued pastel creation constructed of dotted tulle and ruffles. "I got off the plane, and I went straight to the atelier," she said. "I didn't want to leave. You put on so many dresses, and you're like, 'This is the one!' I wonder if that's how it is when you have your wedding."
While this would mark her first couture experience, Newton had previously taken in a show by the brand for last year's ready-to-wear collection. "I cried," she recalled. "I was 10 feet away from Rihanna, and then I got to meet Maria Grazia [Chiuri, the house's artistic director]."
One of Newton's earliest memories is of dressing up with her friends and taking photos, so it was all but destined that she would become a fashion devotee. At 21 years old, she has racked up an impressive collection of Chanel jewelry from 1994 (her favorite year for vintage pieces from the brand), which she keeps in a glass case alongside the acrylic poodles she also collects. "Because I travel so much, I'm always looking and I get good deals," she said. Her favorite boutique is Foxy Couture, which is not in Paris, but near Monterey, California, where Big Little Lies is filmed.
Oh, yes, that show—just 2017's most beloved pop culture phenomenon. On the series, Newton plays Reese Witherspoon's rebellious teenage daughter, a role she'll reprise in the second season, which she is currently wrapping back in California. Along with new cast mate Meryl Streep, the new season will feature the show's first female director, Andrea Arnold. "She does this amazing thing where she doesn't say 'action,' she says, 'Off you go,' and instead of 'cut,' she says, 'Thank you,'" Newton said. "It took a long time to get used to. You never hear her say either one, so you're just always acting."
There are also a number of movies in the pipeline for the young actress. Her film Ben Is Back, with Julia Roberts and Lucas Hedges, in which Newton plays Roberts's daughter, is due out later this year and already is on many critics' awards radar. "It's a really heart-wrenching movie," she said, "but so, so good." There's also next year's Detective Pikachu, her debut film with the Pokémon franchise, costarring Justine Smith and Ryan Reynolds, who plays the role of Pikachu. Newton's female lead role is as a young investigative journalist, "with cute outfits," she notes. "I think the movie is going to make a lot of people happy," she added, "because it's what your life would be like if you had a real Pokémon." The actress traveled through Scotland and England for the film and performed many of her own stunts, including underwater tricks and moves where she was flying through the air in a harness. "I've been working as an actress since I was 4, but doing stunts is a whole new form of acting," she noted.
But for now, the only stunt required was getting out the door in time for the show. "I don't feel like you ever have to feel bad about dressing up," she mused with one last look in the mirror. "Growing up, I think a lot of people think, If I wear this, people are going to look at me. Yeah, they're going to look at you. Because it looks good!"
Related: For Lili Reinhart, Her First Met Gala Is as Exciting as Her Wedding Day