Could Julia Roberts Really Be Inside This Bear Suit?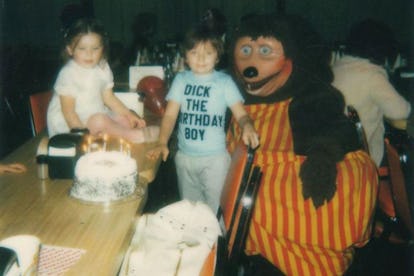 In the early '80s, well before Mystic Pizza, Julia Roberts got her first job, at a pizza parlor. But it wasn't just any bar-backing or table-waiting gig—no, she worked at the felicitously named Showbiz Pizza, a proto–Chuck E Cheese's chain, where she donned a full-body bear costume and delivered birthday cakes to the restaurant's young patrons.
During an appearance on The Ellen DeGeneres Show on Friday, Roberts, now 51, described her evolution into Billy Bob (the name of the Showbiz Pizza mascot). "There was a mask. I was not the only person to wear this costume. For sure, there were bears before me. So when you would get in it, you would just have to kind of, before you put the head on," Roberts explains in a video of the interview, feigning hyping herself up and adding, "I can do this for minimum wage."
"Now that I'm talking about it, it sounds awful, but really, at the time I somehow, I…" Roberts says, trailing off. Host Ellen DeGeneres intercedes: "Loved it?"
"Yes," Roberts admits. Toward the end of the two-minute segment, DeGeneres queues up a photo of a person in a bear suit posing alongside a girl sitting on a table and a boy wearing a T-shirt reading "Dick the Birthday Boy." The bear is a pretty horrifying thing, with vacant eyes, a toothless grimace, and yellow-and-orange-striped overalls covering a paunchy body.
The photo is a real cursed image. In fact, if you Google "cursed images," it's among the top results. At first, this was a thrilling development: Could Julia Roberts really be lurking inside this old meme? She seemed to think so, after all! "There I am," Roberts concedes. "There I am."
But then I started to grow suspicious. If something appears too good to be true, it probably is, and that also applies to celebrities putting on bear suits. So I decided to undertake an investigation to get to the bottom of who, exactly, is inside the bear costume.
To start, let's address the bear. Billy Bob was the mascot of Showbiz Pizza prior to its rebranding as Chuck E. Cheese's in the early '90s. Human employees of the chain wrapped Billy Bob's warm, ripe pelt around their body to deliver birthday cakes to children; animatronic iterations of Billy Bob also strummed out tunes as part of the "Rock-afire Explosion" band. (In 2008, a man with an old Rock-afire setup began posting covers of pop songs to Youtube, including Usher's "Love in This Club," "Hips Don't Lie," and "Electric Feel." They're still playing.) Billy Bob, the Rock-afire frontman, is the bear to which Roberts refers when she speaks so tenderly of her time at Showbiz Pizza.
Moving on to "Dick the Birthday Boy." Dick grew up to become Rich Evans, one member of RedLetterMedia, the outfit best known for its elaborate Star Wars takes. In a Halloween episode of their Web series "Best of the Worst," Evans's fellow cast members gifted him a T-shirt they had commissioned to replicate the photo; they somehow also got ahold of a Polaroid copy of the image. Evans seems more perplexed than anything, but Reddit has taken the clip as gospel: proof he's the kid in the meme. The age difference between Evans and Roberts seems about right—Roberts was born in 1967, and Evans in 1977, which would make Evans a kid when Roberts was a high-school teen. (Upon giving Evans the shirt, one of his costars remarks, "Do you remember it from a very special day, when you were five, or three, or something?")
But also per Reddit (grain of salt, always), Evans is from Illinois—so he would have likely celebrated his birthday in the Midwest. Roberts, by contrast, is from Georgia, and worked at a Showbiz branch in the South.
So Julia Roberts may not be the bear from the cursed images meme, but she wore an identical bear costume and delivered cakes to kids who would probably be faintly traumatized by the whole experience, and isn't that good enough?
Related: Why Julia Roberts Is The Only Celebrity Using Instagram Correctly