Why Does Justin Bieber Keep Buying Exotic Pets?
Charting the singer's penchant for purchasing exotic pets, from OG Mally the monkey to Savannah cats Sushi and Tuna.
---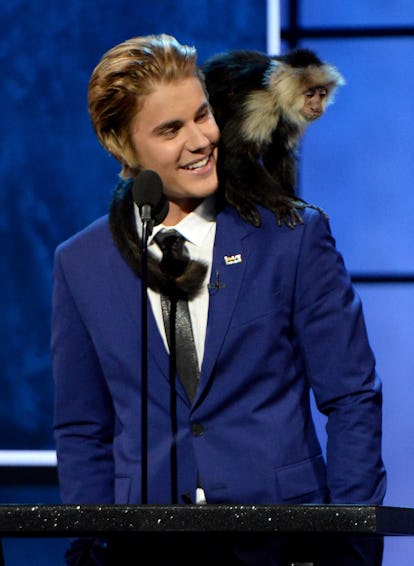 Jeff Kravitz/Getty Images
It was only a few weeks ago that Justin Bieber showed off his two adorable new kittens—Sushi and Tuna—to his 119 million Instagram followers, but it turns out that his ownership of these two cats poses a bit of a problem, at least according to PETA.
Sushi and Tuna reportedly cost Bieber a cool $35,000 when he bought them from a breeder in Illinois called Select Exotics. Known as Savannah cats, they're a mix of a domestic breed and the wild African serval. They're slightly larger than the average domestic cat, agile, and are apparently as intelligent as dogs.
But there is "a dangerous demand for hybrid cats" according to PETA Senior Vice President Lisa Lange—dangerous because of the existing animal overpopulation crisis. There are already plenty of household pets that are overcrowding shelters, and some are at risk to be euthanized if they are not adopted. The ASPCA estimates that over six million animals enter shelters each year.
There is also the issue of commercial breeding facilities that, while legal, are not always regulated, and provide inadequate living conditions for the pets that are bred there. According to a nonprofit group called the Savannah Cat Association, the designer cats that Bieber owns are legal in both California (where the Biebers live) and South Carolina (where the Biebers recently got married), but legally restricted or banned in Colorado, Georgia, Idaho, Massachusetts, Nebraska, New York, Texas and Vermont.
The self-proclaimed "crazy cat man" and his wife Hailey Bieber also own a couple of dogs—two Yorkies named Oscar and Esther—though there is no telling if they were purchased or adopted.
Sushi and Tuna are not the singer's first exotic pet purchase, either. In 2013, his 14-month-old capuchin monkey named OG Mally (a birthday present given to the singer) was seized by German authorities after Bieber brought him on a private plane to Munich without any records. Though he told the authorities he would return with records proving that OG Mally had been vaccinated and legally purchased, he never came back. Owning a pet monkey is also illegal in the state of California.
And in 2015, he posed with a monkey on stage during his very own Comedy Central roast. The following year, he told GQ he was considering purchasing another one. "In Germany, that monkey's endangered or something…but I had the papers. I even had it written out that he was a circus monkey and he could travel and all that shit. I had all the right papers. Things get twisted," he said at the time, before adding that one day if he got another one he would "make sure I got a house and it stays in the fucking house. I'm not gonna bring him to Germany or travel with it anymore. People are always like, 'Why did you get a monkey?' If you could get a monkey, well, you would get a fucking monkey, too! Monkeys are awesome."
Bieber is not the first celebrity, nor will he be the last, to buy designer pets, but hopefully, over six years after his German monkey mishap, and this slap on the wrist from PETA, the singer will discontinue his penchant for purchasing exotic animals.
Related: The Bieber Wedding Actually Looked Really, Really Fun