Kacey Musgraves Was a Goth Cowgirl in Custom Versace at the Country Music Awards
You can always count on her to put a unique spin on things.
---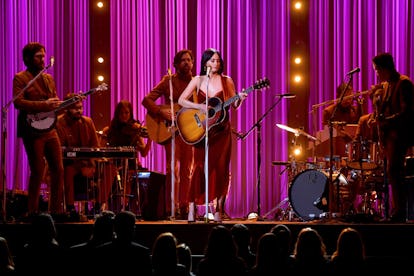 Jason Davis/Getty Images
You can always count on Kacey Musgraves to put her own unique spin on things.
Taking notes from vintage 1970s disco aesthetics, and mixing them with her signature contemporary take on the Western trend, the musician arrived at the 2018 Country Music Awards, on Wednesday night, wearing her version of a glam goth cowgirl ensemble.
Musgraves accepted the 2018 album of the year award for Golden Hour, her fourth major-label studio album, in a custom Versace look that the Italian label describes as "a black, custom-made, high-waisted Versace tailored look with flared trousers and Western inspired Swarovski crystal fringe accents." Tucked into the trousers was a sheer black shirt buttoned only at the collar and waist and covered with strategically placed panels of sparkly fringe; though Musgraves initially arrived at the event wearing a black bolero jacket over the top, she took it off as she made her way down the red carpet. Rather than tease her waist-length hair up high, she opted for a slicked-straight style with a middle part, and paired it all with a simple yet bold red lip.
During the ceremony, Musgraves switched up her look: She performed "Slow Burn," off her award-winning album, in a red velvet dress, then pulled a complete 180 from her goth cowgirl look by putting on another Versace suit for the press conference, this time in bright orange.
Musgraves is no stranger to taking style risks by playing with textures or patterns, and she does have a penchant for wearing vintage Versace—just last month she wore an eye-catching butterfly-print dress from the label's 1995 archive during an appearance on Jimmy Kimmel Live.
The CMAs, and her big win, happened to coincide with the 10-year anniversary of Musgraves's move to Nashville, the country music capital of the world. "I'm so grateful for this place & the souls in it who have shown me some kindness and support along the way. And if I really think about it any more right now I'll fuck up this mascara," Musgraves shared on Twitter, commemorating the sentimental milestone with a photo of her home.
Related: Kacey Musgraves Is "Pissed" Her Gay Fans Have Felt Excluded From Country Music