Kaia Gerber and Bella Hadid Wore the Same Pants to the Same Fashion Show
Two models, two ways to wear velvet leopard-print pants.
---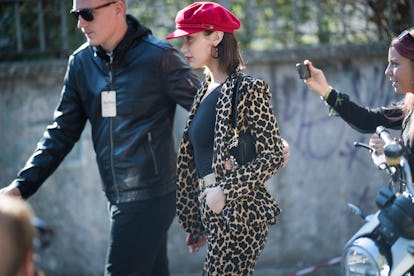 Timur Emek/Getty Images
On Thursday morning, Bella Hadid and Kaia Gerber may have arrived to Fendi's Spring 2018 show in Milan separately, but they managed to do so wearing the same pants. A pair of cropped, velvet, slightly flared leopard-print trousers, to be precise. During your average red carpet appearance, such a move would be quite the faux pas—unless, of course, you are Elizabeth Olsen and Aubrey Plaza—but it's not clear what the etiquette is for matching when it comes to street style.
Whatever the case, it must come as some consolation that the two young models styled their matching pants (by Frame, retailing for $415, they're called "cheetah print" but are clearly leopard) in their own distinct ways (albeit both with teal, Sam McKnight-styled bangs for the Fendi show): Gerber wore hers with a cropped Metallica t-shirt and suede booties with buckles across the front; Hadid arrived in a matching blazer, a gold belt, camel-colors lace-up boots, and a one-shouldered bodysuit. Gerber captioned hers, "prep for Fendi," while Hadid wrote, "After Fendi During fittings Before Moschino." Versatile!
It would have been a joy to observe Hadid and Gerber arriving backstage at Fendi only to discover they had selected the same looks. Did they laugh? Weep? Vow to never commit such blasphemy again? The two models, who also share model parentage, are close friends, which likely makes the whole incident a little more bearable. Hadid, not-so-recently single, spent Valentine's Day with Gerber and her brother, Presley, earlier this year. During New York Fashion Week, Gerber's first season walking the runway, they traveled around New York in Alexander Wang's party bus.
And, after all, their leopard-print coordination is not the first time the two model-scions have matched. For example, Gerber is, apparently, quite the fan of those Matrix-inspired sunglasses Hadid adopted earlier in the year, judging by her Instagram. Plus, at a New York Fashion Week party hosted by Mert Alas and Marcus Piggott earlier in the month, Hadid and Gerber were spotted exiting the party in coordinating hats by the Ukrainian milliner Ruslan Baginskiy. Rather compelling evidence that Gerber and Hadid are undertaking a street style conspiracy, no?
Of course, the glasses are also beloved by Kendall and Kylie Jenner; the hats by Elsa Hosk and Sofia Richie. So it could be nothing at all, and we're reading far, far too much into this.
Related: Kaia Gerber On Her New York Fashion Week Debut: "I Kind of Blacked Out"
Bella Hadid, a bubble bath, and jenga—what more could you want?