What If Kim Kardashian and Kanye West Were the Next Great Academic Power Duo?
A speculative look at Professor West's hypothetical art school syllabus.
---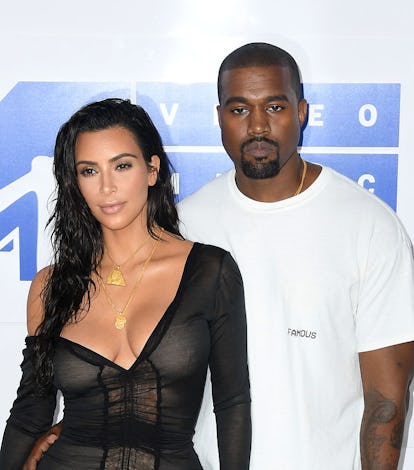 C Flanigan/Getty Images
Simone de Beauvoir and Jean-Paul Sartre, Fred Astaire and Ginger Rogers, Kim Kardashian West and Kanye West—collaborations and dynamic duos can rule culture, and have even shaped the historical contexts we use to understand art across interdisciplinary creative and intellectual arenas. With Kardashian West's recent interest in legal activism (she is seeking another pardon from the White House for Chris Young, who is serving a life sentence for drug possession, after successfully freeing Alice Marie Johnson for a nonviolent drug offense earlier this year) and possible law school enrollment, and West declaring his wishes to take on a teaching position at both the Art Institute of Chicago and the American Academy of Art, the couple could have taken the academic world by storm.
However, it turns out that Kim Kardashian West and Kanye West are not poised to be academia's next great power duo. West reportedly "misspoke" about Kardashian's enrollment in law school, according to Page Six, and representatives from both prestigious American art schools have also denied any official strategy for West to teach classes. But it is not that difficult to imagine Professor West teaching a course or two. After all, it is well known that the rapper can give quite a rousing university lecture (just look at the speech he gave during his visit to Central Saint Martins, in London, if you need an example), and he could put that honorary Ph.D. he received from the Art Institute of Chicago in 2015 to good use if given a podium to stand behind (though pacing back and forth in front of the blackboard would seem to be more in line with his hypothetical teaching style). And college student fashion (groutfits, sneakers, and oversize hoodies) often tends to fall in line with the Yeezy aesthetic, so at least the students might serve as inspiration for the next collection drop if he needs some new muses.
In any case, it can be fun to imagine one of the world's most polarizing celebrities in a classroom, so let's humor the thought of West as a professor, materializing on the front steps of the Art Institute on the first day of the spring semester next year. What kind of classes would he teach? Would there be some introductory art theory on the table, or would students be given time in a studio to paint, draw, sculpt, or make digital pieces? And what would a course syllabus taught by Professor West even look like? Potential course titles and syllabi for Professor West's first semester at art school are listed below. Class is now in session, don't be late.
"Yikes: Language and Post-Structural Visual Art"
This three-hour lecture will be taught twice a week, beginning at 8:30 A.M. Professor West will espouse the theoretical teachings of Michel Foucault, Jacques Derrida, and Judith Butler, placing their work in conversation with the art works of René Magritte and Jenny Holzer. This course will be co-taught by Kim Kardashian, J.D. Students will be expected to produce weekly 2,000-word musings on language and art, which are to be posted to the course blog a full 24 hours before class on Monday morning, and respond to at least three other blog posts written by fellow classmates.
"Who Will Survive in America: Identity and Contemporary American Art"
Students will be asked to familiarize themselves with the works of Kerry James Marshall, George Condo, Kid Cudi, and basically anyone else who has ever collaborated with Kanye West on any project, music or fashion related, since the beginning of his career. Each week, one student will lead the discussion based on one of the aforementioned artists because Professor West can only do so much given the fact that he has a Yeezy office to run and three children to raise in Calabasas.
"Famous: Celebrity Culture and Authorship of the Self"
What does it mean to be critical of the intersections of race, consumerism, and gender as they pertain to fame and celebrity? Students will be asked to engage with the works and writings of Vincent Van Gogh, Walter Benjamin, Emily Dickinson, and the occasional tabloid magazine, as well as contribute their own "tabloid" collage work for the final project (projects may be submitted digitally). Time permitting, the concept of the "Hollywood marriage" will be unpacked near the end of the semester in a lecture co-taught by Kim Kardashian, J.D.
"I Love Kanye"
This course title should be self-explanatory. There's always that one self-indulgent professor who fills the syllabus with his or her own work, expecting students to familiarize themselves with the work of a self-proclaimed genius while inflating the ego of their teacher. This course would be exactly like that, with every student required to come to class with the prerequisite knowledge of West's entire career, only to be tasked with reciting his discography in chronological order for full credit. There are no participation points just for "showing up" to this class.
"Ghost Town: Death and Its Artistic Depictions"
From ancient funerary masks and Renaissance death portraits to the art of cryogenics and digital renderings of posthumous subjects, this survey course uncovers the historical link between death and art, including West's heartbreaking track "Ghost Town," from his eighth studio album, ye.
Related: What Did Kanye West, Hillary Clinton, and Oprah Winfrey Talk About at Dinner During Fashion Week?