What Did Kanye West, Hillary Clinton, and Oprah Winfrey Talk About at Dinner During Fashion Week?
World leaders came together at a New York Fashion Week dinner.
---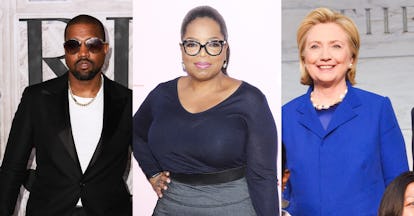 Getty
During a Fashion Week dinner for Ralph Lauren's 50th anniversary show, the unholy trinity of Kanye West, Oprah Winfrey, and Hillary Rodham Clinton somehow came together. West posted a picture from the event to Twitter, writing, "I got a great seat." In the frame, of course, are Winfrey (to his left), Clinton (to his right), and Lauren (directly in front of him). We agree, Kanye.
Seriously, what did this group talk about? Winfrey has the mic, so she probably got to set the topics for the evening.
According to John Legend, the rapper is "serious" about running for president in 2024, and as far as campaign think tanks go, he could do a lot worse than this crowd. Winfrey, naturally, would be his running mate, using her natural charm and eloquence to get out the message of whatever their message would be. Lauren would style their campaign trail outfits and perhaps even come up with a slogan or two. And as for Clinton? Well, not to harp on a much-made point, but she did win more votes than any white male presidential candidate in history. She did win nearly 3 million more votes than the man who currently occupies the Oval Office. Just mentioning.
West's wife, Kim Kardashian West, has also been sitting with some interesting tablemates lately. Months after she met with President Trump to ask for clemency in the case of the nonviolent prisoner Alice Marie Johnson (it worked; she's out), Kardashian West returned to D.C. for a "listening session" on prison reform that included Ivanka Trump and Jared Kushner.
So maybe Kanye took the opportunity to talk to Winfrey, Lauren, and Clinton about this pressing and vital issue. Seriously, we have no idea. It could have been anything.
Related: Kanye West Ditched Fashion Week to Debut New Yeezy at a Pornhub Awards Show
A Guide to the Many, Many New Celebrity Babies of 2018 (So Far)