Kanye West and Caitlyn Jenner Are Still Buds Who Text on the Regular
At least there's no feud to be had here.
---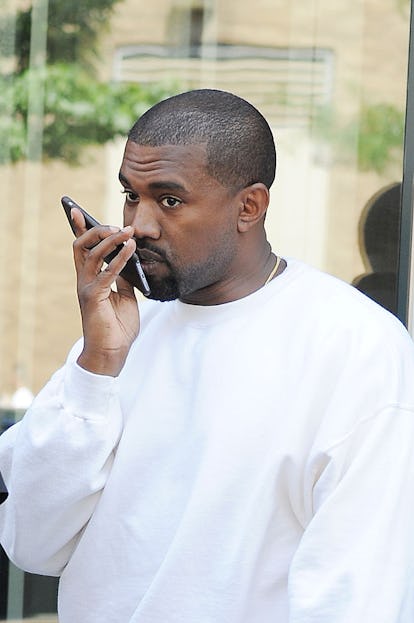 Josiah Kamau/Getty Images
Kanye West and Caitlyn Jenner might be the only members of the extended Kardashian family who are not engaged in some sort of feud with one another at this moment.
Although Caitlyn Jenner is allegedly still feuding with the rest of her family, it would appear that she and West remain tight enough to text about sneakers. After Jenner's constant companion Sophia Hutchins posted photos of herself on a hike in Malibu, while wearing Yeezy sneakers and tagging the Yeezy brand in her Instagram post, Jenner reached out to West to thank him via text message.
Jenner sent her son-in-law a picture of Hutchins and added, "Sophia loved the first set of looks your team left and went all yeezy for her travel outfit today! We love your looks!!" West, who is currently visiting his old stomping grounds in Chicago to record music and give interviews to a hometown radio station, replied, "So awesome. Your welcome." West then shared a screenshot of the correspondence on Twitter.
Just one year ago, Kim Kardashian was calling Jenner a "liar," after the release of her tell-all memoir, Secrets of My Life, in which she opened up about raising the Kardashian family, her transition, and her relationship to Robert Kardashian Sr. "I have always had Caitlyn's back, but she is a liar. She is not a good person," Kardashian said on Keeping Up With the Kardashians. However, the former Olympian was present at her daughter Kylie Jenner's 21st birthday bash at her home in Calabasas, California, earlier in August.
West and Jenner have always appeared to have a positive relationship, with the rapper showing up in a rare appearance during the premiere of Jenner's docu-series, I Am Cait, in 2015. When West met her for the first time after her transition, he told her, "I think it's one of the strongest things that have happened in our existence as human beings, like, our perception. You couldn't have been up against more, like, your daughter's a supermodel, you have a celebrity, you have every type of thing, but it was still, like, f–k everybody, this is who I am."
Even though West's texting skills could use some autocorrect, props must be given to the rapper for only having three unread messages and a half-full battery on his iPhone, and for previously texting Jenner with a few praise-hands emojis. One has to wonder which emojis these two texting buddies will employ next.
Related: Kylie Jenner Announces Adidas Deal, Bringing Peace to Kardashian Family