Kourtney Kardashian Calls Out Kim's "Cellulite" as the Sister Feud Rages On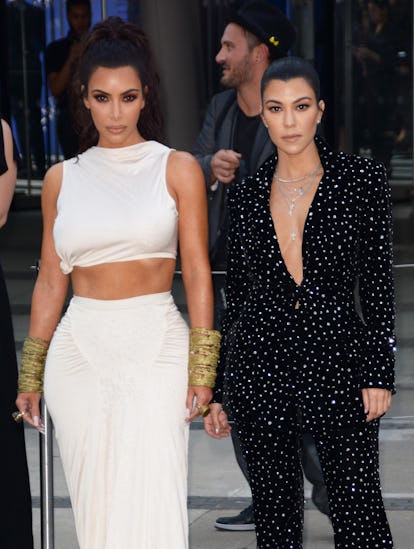 Patricia Schlein/Star Max
Keeping Up With the Kardashians is not one for season-long storylines—it's more episodic hijinks than a carefully crafted, long build-up to a big reveal-come-season finale (unless you take pregnancy announcements into consideration, which the family seems to have in spades). But a few episodes into Season 15 of the reality show, we seemingly have a through line worthy of Ryan Murphy. The story: Kourtney Kardashian's ongoing feud with sisters Kim and Khloe.
To recap: after Kourtney wouldn't commit to a photo shoot for the family's annual Christmas card (part of a new habit of not showing up to other familial commitments, as we've come to learn), Kim lashed out at her older sister, calling her, among other things, "the least interesting" sister to look at. From there, there was a terse photo shoot, followed by a terse session of sisters' therapy, and plenty of terse rehashing of terse sent text messages.
Since this all started with a Christmas card, it makes sense the fight comes to a head with Christmas itself, as Kourtney threatens to take her kids out of town and celebrate the holiday alone, sans the rest of the extended Kardashian clan—a major no-no in the family. You see, Kourtney has not completely forgotten about that "least interesting" comment.
"[Kim] is so bitchy and entitled," Kourtney told Kendall Jenner, making a rare showing as a main player in this episode. "We've been having the most insane fights lately. She was like, 'You don't know what it's like to have a busy schedule. You have nothing to do.' Just crazy things. And then she was like, 'You're the least interesting one to look at.' I'm like, 'Really, have you f—ing looked on the internet? Do you see what people say about me compared to you? Like, you have cellulite covering your ass.' I would have had a million things to say back."
The name-calling doesn't stop there, as Kim goes on to call Kourtney "the new Rob" upon hearing that she might skip Christmas. In the end, as you may have surmised from the hundreds of Snapchats and Instagram stories taken back in December (unlike a Ryan Murphy show, plot twists are hard to pull off here), Kourtney decides to spend Christmas in Calabasas, temporary quelling the drama for the sake of holiday spirit. But don't worry, come December 26th—and next week's episode—all bets seem to be off once again.