Kanye West Calls Out Drake, Nick Cannon, and Tyson Beckford in Defense of Kim Kardashian
To all the boys his wife has feuded with before.
---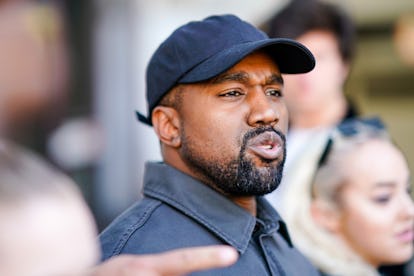 Edward Berthelot/GC Images
At this point, Keeping Up With the Kardashians should be renamed Keeping Up With Kanye West. Lately, few days have gone by without us hearing from the artist and designer. Today, few minutes went by without West's input.
The rapper posted a stream-of-consciousness monologue to his Instagram in four installments from Lake Street in Chicago, the city that he plans to permanently relocate to. The common thread? His defense of his wife Kim Kardashian against Drake, Nick Cannon, and Tyson Beckford, three men who have commented on the mom of three's body in recent months. Drake pondered, "Kiki, do you love me?" on his Scorpion song "In My Feelings," leading many to think that he was talking about Kardashian, whos nickname is Kiki. (Kardashian denied that it was her.) Meanwhile, Cannon speculated that there was something between Drake and the Kardashians in a recent interview with Complex. Beckford, on the other hand, left a petty diss about Kardashian on Instagram, which she replied to with a homophobic comment.
"I just wanted to express some things that were not sitting right with my spirit," West said before unloading on them. "Now that I'm up out the sunken place I can think and I can just be 'Ye and express how I feel. There's a couple of things that I want to address."
He then told Cannon to never mention Kardashian's name in an interview again. "First of all I want to address Nick Cannon," he said, "I understand that you used to date my wife, but you know, you get into an interview, don't mention my wife. If someone brings my wife up, say, 'I respect that man, I'm not speaking on that.' Don't be making no suggestions—like nobody f— my wife."
Kanye then came for Drake, referencing the Toronto rapper's feud with Kanye's G.O.O.D. Music artist Pusha T. "Now if I wasn't in a medicated state I might have thought and had the wherewithal to say, 'Hey Pusha, don't diss Drake on my beat and I spoke about that and took accountability for that,'" Kanye said. "People making rumors or thinking you f— my wife and you're not saying nothing…that don't sit well with my spirit."
He then referenced Drake and Rihanna's relationship, saying, "You know, if I had a girlfriend from Chicago, her name was Renita, and you was married to Rihanna, I wouldn't make no song called Riri. So when you're like, 'Ahhh I don't know where it come from,' you too smart for that bro," West continued. "You know where that come from. Don't make no record with nothing that can be confused."
Kanye also denied responsibility for Pusha T outing Drake's child, Adidon, in "The Story of Adidon." "Now I told ya, I didn't tell Pusha no information about your baby, baby mama, nothing, that don't come from me," he continued. "Don't speak on nobody from our family nothing that can even be mentioned with my wife period."
West finished by addressing Beckford, saying, "As far as Tyson Beckford goes, don't speak on my wife, bro. Like none of y'all speak on my wife period. What are you talking about? I'm married. We're in love, we're a family, he continued. "All three of y'all, come talk to me. We'll work it out… Nick Cannon, Drake, Tyson Beckford, all that wasn't sittin' right with me."
To top it all off, he shared a video of a camera-shy Kardashian laughing; she's in Chicago—despite a recent report that suggested she's not moving there with West. Expect to relive these moments once again when the new season of Keeping Up With the Kardashians—I mean Kanye West—airs.
41 Photos That Document Kanye West's Journey to Becoming a 41-Year-Old Fashion Plate
Kanye West backstage at the Truth Tour, in Baltimore, August 2004.

Frank Micelotta/Getty Images
Kanye West performing at WGCI FM's annual Big Jam concert, in Chicago, December 2004.

Matt Carmichael/Getty Images
Kanye West at the 32nd annual American Music Awards, in Los Angeles, November 2004.

Jon Kopaloff/Getty Images
Kanye West on a visit to MTV's TRL with Raven-Symoné, February 2004.

Theo Wargo/Getty Images
Kanye West at the 2004 Clive Davis pre–Grammy Awards party, in Beverly Hills, February 2004.

L. Busacca/Getty Images
Kanye West at Lifebeat's Hearts and Voices concert, in New York, March 2004.

Johnny Nunez/Getty Images
Kanye West with Rosario Dawson at Hip-Hop Theater Festival's first Hip-Hop Unity Concert, June 2003.

Johnny Nunez/Getty Images
Kanye West on MTV's TRL, in New York, March 2004.

Getty Images
Kanye West at the Paradiso Amsterdam, May 2004.

Johnny Nunez/Getty Images
Britney Spears and Kanye West backstage at the 2004 Billboard Awards, December 2004.

KMazur
Kanye West on The Tonight Show With Jay Leno, April 2004.

NBC/Getty Images
Kanye West at Twista's performance at S.O.B.s, in New York, January 2004.

Johnny Nunez/Getty Images
Kanye West at the 2004 BET Awards, June 2004.

Getty Images
Kanye West, Kevin Liles of Def Jam, and Juelz Santana at the Philadelphia Hip-Hop Summit, in Philadelphia, August 2003.

Johnny Nunez/Getty Images
Kanye West at the video shoot for College Dropout, January 2004.

Johnny Nunez/Getty Images
Kanye West at his album preview party, July 2003.

Johnny Nunez/Getty Images
Kanye West at the 2004 BET Awards, June 2004.

Getty Images
Kanye West at the 2004 Governors Membership Awards luncheon, in Beverly Hills, June 2004.

Amanda Edwards/Getty Images
Kanye West performing with Usher on his Truth Tour, in Los Angeles, September 2004.

Frank Micelotta/Getty Images
Kanye West performing on the first stop of Usher's Truth Tour, in Hampton, Virginia, August 2004.

Frank Micelotta/Getty Images
Kanye West at GQ's Fresh Dressed Awards, October 2004.

Ben Rose/Getty Images
Kanye West at GQ's event honoring Bulgari, in New York, October 2004.

Fernando Leon/Getty Images
Kanye West at the MTV Europe Music Awards, in Rome, November 2004.

Evan Agostini/Getty Images
Kanye West rehearsing for the 32nd-annual American Music Awards, in Los Angeles, November 2004.

Ron Wolfson/Getty Images
Kanye West performing at Madison Square Garden, in New York, November 2004.

Frank Micelotta/Getty Images
Kanye West at the fourth-annual BET Awards, June 2004.

SGranitz/Getty Images
Kanye West at the premiere of Jay-Z's Fade to Black, in New York, November 2004.

Jamie McCarthy/Getty Images
Kanye West backstage at an EA Games party, in Tokyo, December 2004.

Jun Sato/Getty Images
Kanye West after receiving 10 Grammy nominations at the 47th annual Grammy Awards, in Hollywood, December 2004.

Carlo Allegri/Getty Images
Kanye West at an Artist Empowerment Coalition pre-Grammys brunch, in Beverly Hills, February 2005.

Frank Micelotta/Getty Images