Kanye West Gave Kim Kardashian West a Million-Dollar Check and a Percentage of Yeezy for Mother's Day
What do you get for the mom who has everything?
---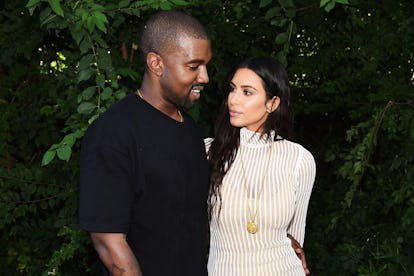 Jamie McCarthy/Getty Images
On Tuesday, the model Ashley Graham released the first episode of her new podcast, "Pretty Big Deal" (so named because, as Graham explained, "I am pretty, and I am big—I'm a pretty big deal"), and to launch her new venture, she invited none other than Kim Kardashian West to join her in the studio. Their conversation ranged from Kim's daughter North West's prom dress (she's eyeing Kim's gold cross Versace gown from the 2018 Met Gala) to Kim's evolving relationship with fashion. But most notably, they touched on a recent, wildly extravagant Mother's Day present the Keeping Up With the Kardashians star and beauty mogul received from her husband, Kanye West.
Not long ago, a brand—which Kim declined to name, though she hinted "they typically knock off Yeezy"—offered her a million dollars for a sponsored Instagram post. (Perhaps Selena Gomez was beyond their budget.) She consulted with her husband, who asked that she decline the offer. "Understandable," Kim told Graham on the podcast, "but that's a lot of money."
The following week was Mother's Day. Picture this: Kim was at home with her family and "all the babies," preparing breakfast. "It's really hectic," she described. In walked a Yeezy assistant with whom Kim was unfamiliar; in his grasp, he held a fat manilla envelope, which he presented to her. She opened it; inside, she found a check in the amount of one million dollars. "It was a note saying, 'Thank you for always supporting me and not posting,'" Kim recalled. (At first, she said she couldn't bring herself to cash the check. "But then I cashed it," she said, as Graham howled with laughter.)
That wasn't even the end: The envelope still contained another document. "It was a contract to be an owner of Yeezy and have a percentage," Kardashian said. "Like, a full, thick contract of my percentage of Yeezy. That was my Mother's Day present."
By all appearances, it's a positive development from the previous business-minded gift Kanye gave Kim. On Christmas, Kim opened up a box from her husband, finding inside a Mickey Mouse doll, Apple headphones, an Amazon gift card, Adidas socks, and a Netflix subscription. Everyone observing on her Instagram likely had the same thought: Had Kim not already shelled out for her own Netflix? But, it turned out, these were simply tokens of stock West had bought Kim as a Christmas gift. After making her an investor in a whole array of booming companies, the only logical next step would be to make his wife a business partner. Naturally.