Kanye West Achieved "Best Husband" Status This Christmas
Kanye went the extra mile with his Christmas present to Kim this year.
---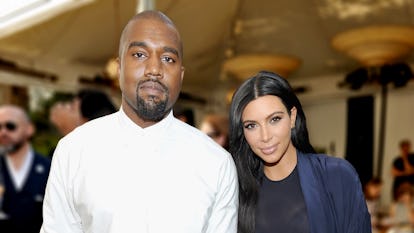 Donato Sardella/Getty Images
Kanye West may have a reputation for being somewhat Grinch-like when it comes to never smiling or bouncing with joy, but he definitely was no Grinch to his wife this Christmas. This holiday, Kanye bumped himself up to "best husband" status by getting Kim Kardashian a Christmas gift that only a mogul would think to give.
On December 26, Kim posted a video of her Christmas presents to her Instagram Stories. Sounding appreciative, but not exactly enthused, she opened up the first box and said, "For one of my Christmas presents from Kanye he gives me this little box with a Disney Mickey toy, Apple headphones, Netflix, Amazon gift cards and Adidas socks." Of course, these are very nice Christmas presents to give to anyone, and surely Kim was grateful, but she was also probably thinking, "Thanks for these gifts that I have most definitely already bought for myself months, if not years, ago." That is, until she opens the second box of gifts.
"I open the next box and it is stock to Amazon where he got the gift card, stock to Netflix, stock to Apple, hence the little headphones, Adidas stock and Disney stock," she excitedly informs her Instagram audience as she opens up the second box. What do you get for the person who already has just about everything?
Well, according to Kanye West, who is always two steps ahead, stock in Apple, Adidas, Netflix and Disney is the gift the keeps on giving, and now that Disney has acquired Fox, those stock shares are about to be worth a lot more than what they would have been worth just a few weeks ago. (Kardashian claimed she received 920 shares of Disney, which is worth about $100,000.)
"Best husband alert!" was the caption Kim used on the second video of the stock shares, and this really does position Kanye as the best husband because who else would think to purchase thousands of dollars in stock in every major brand his wife loves for Christmas besides a mogul like him?
Related: Where in the World Is Kylie Jenner?
Kanye West Just Wants to Bring Joy to the World Like Will Ferrell in 'Elf'