Kanye West Comes Out as Sexual Abuse Apologist
Louis C.K., 6ix9ine—West has their back.
---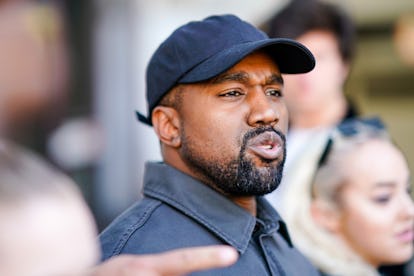 Edward Berthelot/GC Images
As the country's focus has been on Judge Brett Kavanaugh's confirmation hearings in Washington, D.C., and the testimony of Dr. Christine Blasey Ford, Kanye West has chosen the past 36 hours to go on something of a tour defending several high-profile men who have either been accused of or admitted to sexual abuse and misconduct. That includes the rapper confirming that two men accused of abuse will appear on his upcoming album Yandhi; stating that he'd rather have Louis C.K. hosting this weekend's Saturday Night Live season premiere, where West will serve as musical guest; and seemingly comparing the idea of believing victims about their sexual abuse to the "sunken place" from the movie Get Out. He even made some of these proclamations while wearing a "Make America Great Again" hat, from the campaign of Donald Trump, a man accused by multiple women of sexual misdeeds.
The spree started on Wednesday night on Instagram, when West shared a photo of himself in the midst of a FaceTime call with A$AP Bari, a member of the A$AP Mob and cofounder of the streetwear clothing label VLone. Bari was arrested in London this past May on charges that he burst into a woman's hotel room, demanded sex, and videotaped her nude body without consent. He allegedly then threw the woman, still unclothed, out into the hotel hallway.
"Bari challenged me when no one else did and when he got in trouble I was scared to say he was my friend just like I did with xxx and that was some pussy shit on my part," West wrote. "I let the perception and the robots control me. That's the true sunken place. Bari I appreciate your perspective and vision. You brought me closer to Rocky too. Jedis never let perception and cancel culture get between them."
Never mind that, according to the director Jordan Peele, the "sunken place" is a metaphor for systematic oppression of black people, or that a plotline of the Star Wars saga is about tension between Jedis over their moral lapses. It seems that West has firmly cast his lot the accused over the accusers.
The tour continued on Thursday when West showed up for an 11 a.m. meeting with the staff of The Fader wearing a red "MAGA" hat to discuss the album he plans to release on Saturday.
According to a brief recap of events that appeared on the magazine's website, West claimed that the album will include guest spots from 6ix9ine, a rapper who pled guilty to three felony counts of use of a child in a sexual performance, and, on October 3, faces up to three years in prison and a mandate to register as a sex offender. West also claimed that the late rapper XXXtentacion, accused of kidnapping and beating his pregnant girlfriend, will appear on his album.
Despite his fascination with Jedis, West also stated that, rather than the Star Wars star Adam Driver, he would have preferred to appear on Saturday Night Live in an episode hosted by Louis C.K., the comedian who has apologized to the multiple women who alleged that he had masturbated in front of or while on the phone with them in professional settings.
West has spent a good part of the year talking freely about other controversial subjects, but he has curiously little to say about #MeToo publicly. His most discussed comment on the matter was a lyric on his album Ye. "Russell Simmons wanna pray for me too," he rapped. "Imma pray for him 'cause he got #MeToo'd." However, people interpreted that lyric less as West's stance on the movement than as an answer to earlier criticism Simmons had made of West.
Meanwhile, West does seem clearly concerned about one social issue: the fact that social media networks show how many followers an account has.
West is scheduled to appear on Saturday Night Live this weekend.
Related: Kanye West Calls Out Drake, Nick Cannon, and Tyson Beckford in Defense of Kim Kardashian