The Kardashians Brought Back That Pregnancy-Hiding Patchwork Quilt for Their Fall 2018 Calvin Klein Campaign
The blanket has returned, but this time it's not covering any baby bumps.
---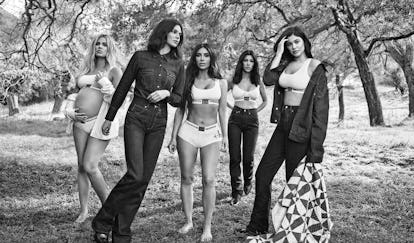 Calvin Klein
Nothing gets between a Kardashian and her Calvins—unless it's a red-and-white patchwork quilt.
In the brand-new Kardashian-Jenner Fall 2018 Calvin Klein underwear and denim campaign, which Kim Kardashian announced with a post on her Instagram on August 1, the Kardashians are back at it again with Raf Simons's interpretation of Americana.
That strategically placed blanket, which covered Kylie Jenner's pregnancy bump in the family's last Calvin Klein campaign (at the time, Jenner still had yet to disclose whether or not she was pregnant, but the blanket did drum up plenty of intrigue before the birth of her daughter, Stormi Webster, a few weeks after the campaign images dropped) has returned for the Fall 2018 campaign, but this time, Jenner has cast it to her side rather than swathe herself in it completely.
In this campaign, Khloé Kardashian is the lone remaining pregnant sister (her daughter True Thompson was not born until mid-April), but she is not hiding anything about it. That baby bump is on full display. You can get an even clearer view of the pregnancy bump in the campaign video as Khloé swings on a tree in the forest.
Kendall Jenner is actually the most covered up member of the crew, with a full Western ensemble—not an inch of skin is showing underneath her buttoned-all-the-way-up denim shirt and jeans in the image Kim shared to social media, but that campaign video also features the second-youngest of the family stripped down to her underwear as she enters photographer mode, snapping shots of Kim and Kourtney in the woods.
"Unconventional and unapologetic: family makes us who we are," says the Calvin Klein campaign site. If there's a message to be found here, maybe it's that the Kardashians are no longer hiding things, and at this point, what is there to hide anyway? The babies have been birthed and the blanket coverage is no longer necessary. That's what we call growth.
Related: A Close Examination of the Kardashians' New Calvin Klein Campaign, Including Kylie Jenner and Some Strategically Placed Blankets