Khloé Kardashian Gathers All the Baby Cousins for True's Half-Birthday
They are really trying to make this baby cousins thing a thing.
---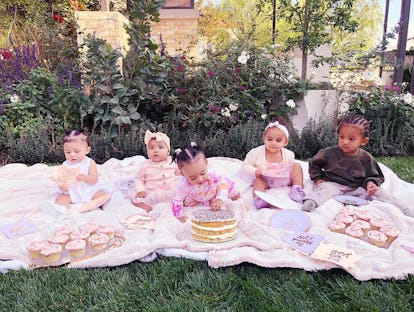 Instagram:@khloekardashian
Fans are deeply concerned about Kanye West's ongoing relationship with President Donald Trump and his apparent mental health struggles. Are he and Kim Kardashian West okay? Is this chaos affecting their marriage, their children? Could Ye cost the Dems the midterms? And where is that new album? With so much real drama swirling around the family, the Kardashian-Jenner clan naturally decided to feed the public a baby-faced distraction. And it's totally working because look: cuteness!
The "Kousins," aka (left to right) Stormi Webster (of Kylie), True Thompson (of Khloé), Chicago West, Dream Kardashian (Blac Chyna and Rob Kardashian's kid; we will get to this), and Saint West, who was not required to dress in the otherwise obligatory pastel pink (you are never too young to learn about gender-normative fashion!).
The occasion for this baby-palooza was True's half-birthday. She is six months this weekend, and cute as a button. Her mother posted the photo to Instagram with the caption (sorry, Kaption), "? Cousin Cupcake Party!!! ? Keeping Up With The Kousins ?."
It may be strange to discuss the social rank of a literal baby, but these are strange times we live in, so let's talk for a second about what a get this is for Dream. The 1-year-old is rarely seen alongside her extended family, owing to the Kardashian-Jenner clan's general troubles with the fallout of Blac Chyna and Rob Kardashian's relationship. But it's never too soon to teach the next generation the importance of family. And of clout, honey!
As Bazaar put it, "It's so nice to see Dream included in a group hang-out like this." It is. It's nice.
Kim Kardashian West also celebrated True's special day on Instagram, posting a picture of the half-birthday girl with her cousin North West, captioned, "Cousin Love ?." It is, and we mean this without any snark, pretty darn sweet:
Good luck, kiddos!
Related: Kim Kardashian Apparently Edits and Approves Every Keeping Up With the Kardashians Scene
Celebrate Libra Season With Kim Kardashian, Avril Lavigne, and Gwyneth Paltrow
Cardi B, born October 11, photographed by Mickalene Thomas for W Magazine, August 2018.

Mickalene Thomas
Donald Glover, born September 25th, photographed by Caitlin Cronenberg for W Magazine, 2015.

Caitlin Cronenberg
Gwen Stefani, born October 3rd, photographed by Sophie Olmsted for W Magazine, September 2005.

Sophie Olmsted
Naomi Watts, born September 28th, photographed by Sebastian Kim for W Magazine, June 2011.

Sebastian Kim
Avril Lavigne, born September 27th, photographed by Katherine Wolkoff for W Magazine, March 2007.

Katherine Wolkoff
Amandla Stenberg, born October 23rd, photographed by Mario Sorrenti for W Magazine, October 2017.

Mario Sorrenti
Kim Kardashian, born October 21st, photographed by Mark Seliger for W Magazine, November 2010.

Mark Seliger
André Leon Talley, born October 16th, photographed by Caitlin Cronenberg for W Magazine, 2017.

Caitlin Cronenberg
Alicia Vikander, born October 3rd, photographed by Willy Vanderperre for W Magazine, April 2015.

Willy Vanderperre
Brie Larson, born October 1st, photographed by Peter Lindbergh for W Magazine, February 2016.

Peter Lindbergh
Marion Cotillard, born September 30th, photographed by Tim Walker for W Magazine, December 2012.

Tim Walker
Barbara Walters, born September 25th, photographed by David Turner for W Magazine, April 1992.

David Turner
Liev Schreiber, born October 4th, photographed by Ari Marcopoulos for W Magazine, October 2008.

Ari Marcopoulos
Gwyneth Paltrow, born September 27th, photographed by Steven Klein for W Magazine, September 2007.

Steven Klein
Steve McQueen, born October 9th, photographed by Stefan Ruiz for W Magazine, January 2014.

Stefan Ruiz
Jason Reitman, born October 19th, photographed by Coral von Zumwalt for W Magazine, March 2006.

Coral von Zumwalt
Catherine Zeta-Jones, born September 25th, photographed by Michael Thompson for W Magazine, July 2004.

Michael Thompson
Michael Douglas, born September 25th, photographed by Inez and Vinoodh for W Magazine, February 2011.

Inez van Lamsweerde and Vinoodh Matadin
Freida Pinto, born October 18th, photographed by Juergen Teller for W Magazine, February 2013.

Juergen Teller
Viggo Mortensen, born October 20th, photographed by Craig McDean for W Magazine, February 2017.

Craig McDean